Latest topics
»
August planting
by
Scorpio Rising
Today at 9:12 pm
»
Jalapeños - Time to start canning!
by
Scorpio Rising
Today at 9:07 pm
»
N&C Midwest: August 2020
by
Scorpio Rising
Today at 9:02 pm
»
Pesto
by
has55
Today at 2:15 pm
»
CANADIAN REGION: What are you doing July, August, September
by
Kelejan
Today at 7:19 am
»
my worms are gonna get hungry
by
p14shooter
Yesterday at 6:45 pm
»
Tom Thumb
by
p14shooter
Yesterday at 6:35 pm
»
Tomato Tuesday - 2020
by
plantoid
8/10/2020, 8:31 pm
»
another idea from do nothing gardening-composting tea
by
plantoid
8/10/2020, 7:46 pm
»
Green Chili's
by
OhioGardener
8/10/2020, 6:55 pm
»
2020 SFG in Brooks, GA
by
sanderson
8/10/2020, 6:25 pm
»
2020 SFG Adventures in Hampstead, NC
by
sanderson
8/10/2020, 5:37 am
»
Newbie SFGer in N. Virginia needing some advice
by
novablue
8/9/2020, 7:29 pm
»
Hardcore Sustainability - Urban Homesteading
by
TCgardening
8/9/2020, 12:23 pm
»
A couple of recipes for when the tomatoes show up ;-)
by
Scorpio Rising
8/9/2020, 9:35 am
»
Tomato Mosaic Virus...Fearing the Worst :(
by
Yardslave
8/7/2020, 12:26 pm
»
The SFG journey-Overview of the Redesign Compost Tea Brewer
by
has55
8/7/2020, 3:50 am
»
Tampa newbie
by
TCgardening
8/6/2020, 9:11 am
»
Pull Bean Plants to Pick Beans?
by
Scorpio Rising
8/5/2020, 8:45 pm
»
Safety of cardboard in compost
by
Scorpio Rising
8/5/2020, 8:42 pm
»
Succession seed sowing now
by
Scorpio Rising
8/5/2020, 8:37 pm
»
Hello from southern Wisconsin
by
AtlantaMarie
8/5/2020, 6:07 am
»
Stroke - Country Naturals
by
countrynaturals
8/4/2020, 7:28 pm
»
Cheerleaders needed, please. This is daunting.
by
mollyhespra
8/4/2020, 2:19 pm
»
Almost 68, and this is a new one on me !!!!
by
sanderson
8/4/2020, 2:06 pm
»
SFG Journey: Beneficial nematodes experiment
by
has55
8/4/2020, 1:01 pm
»
New England, August, 2020
by
SFGHQSTAFF
8/4/2020, 4:18 am
»
Earwigs 2.0!
by
OhioGardener
8/3/2020, 2:52 pm
»
Happy Birthday!!
by
Scorpio Rising
8/3/2020, 12:56 pm
»
N&C Midwest—July 2020
by
Scorpio Rising
8/3/2020, 12:40 pm
Page 2 of 2 •
1, 2
Grown Sunshine,  I experimented with planting 9 soybeans in a 12" diameter pot (8 sprouted).  They grew and produced a whooping 16 seeds,  Only 1 -2 seeds per pod.  However, I am a Newbie so anyone should be about to do better than me, especially with real compost!
@grownsunshine

wrote:Turan - sounds like a good idea. I have a couple of spots available. I think I'll try soy beans and maybe another type. Any recommendations?
Dragon's tongue beans! They grow like crazy, grow about 18" high and keep on putting out beans, AND they're cool looking!! Just planted more. they're delicious and NO strings to boot! We grew some soy beans, tall, yellow spindly looking, I think there's about 3 pods off of two squares with 4 per square? They didn't like my MM at all, won't do them again in this mix
My grandkids love soy beans, so will try them again in new soil

southern gardener




Posts

: 1887


Join date

: 2011-06-21


Age

: 39


Location

: california, zone 10a



unit649 - dang! your garden is so lush and green. I'm jealous!

sanderson - I was thinking if the soy beans didn't work so well for you I'm not so sure for myself, but now I have some "real compost" that I just picked up this weekend so I"ll give them a try. Plus they're yummy and healthy...worth a try for me.

Okay got my list - Half White Runners, Soy Beans, Yellow & Purple Beans, dragon tongue beans. Good, I can try these and see how they do. They I'll give my wife the opportunity to see which one she prefers for future growing.

Does anyone have a preferred seed company they buy from? Reasonably priced, organic and good quality seeds. I haven't bought many seeds, except at HD.

grownsunshine




Posts

: 255


Join date

: 2013-05-22


Location

: So Cal: Zone 10a



GS,  I just, this minute, ordered Dragon Tongue beans and Amish Paste tomatoes from Baker Creek, Rare Seeds.  They accept PayPal which is a plus for me since I have a small balance in it.  Reasonable postage for two 1-oz packs.  Territorial Seeds was just too expensive for 2 small bean packs!!  HD and Lowes are fine for common veggies but not some of the neat ones you see in this Forum.  Last winter I bought some "permanent save" seeds from MyPatriotSupply.com.  Reasonable price and shipping.  Love the mylar envelopes that can be re-closed via ziplock slide.  To remove teeny and small seeds from the packs, I use a straw snipped diagonally as a scoop.  The teeny ones "statically jump" to the pointed end of the straw and the small seeds are easier to count.

Try the soy beans!  My mix was Kellogg weak, plus I had the pot on it's drip pan.  I think the roots got really wet and never really recovered after I removed the pot.  I will definitely try them again next year with my new homegrown compost.
I like
http://www.seedsavers.org/onlinestore/
This is from their site:  
    "Seed Savers Exchange is a non-profit organization dedicated to saving and   sharing heirloom seeds. Since 1975, our members have been passing on our garden heritage by collecting and distributing thousands of samples of rare garden seeds to other gardeners."
Thanks for the nice comments about my garden.  Thats what Mel's Mix does, with a hand from the Good Lord.  Took this picture the other day.
Madge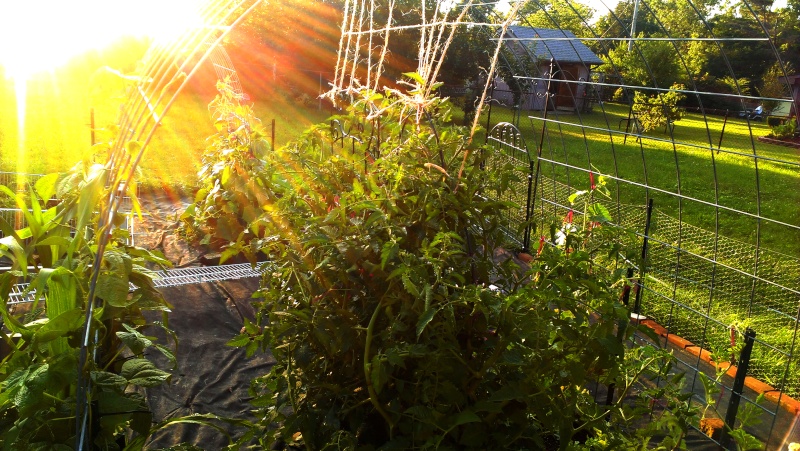 unit649




Posts

: 179


Join date

: 2013-04-25


Location

: Central Kentucky



Please keep the thread on track... What to plant in a garden for two people.
____________________________
43 years a gardener and going strong with SFG.
https://squarefoot.forumotion.com/t3574-the-end-of-july-7-weeks-until-frost
There are certain pursuits which, if not wholly poetic and true, do at least suggest a nobler and finer relation to nature than we know. The keeping of bees, for instance. ~ Henry David Thoreau
https://squarefoot.forumotion.com/t1306-other-gardening-books
@Turan

wrote:... Thanks, boffer, that is a very useful break down of how much of what to grow.  I assume this is part of your goal to provide a salad and vegetable dish for every day of the year for 2?  How much succession growing is reflected in this list?  I guess what I mean is you have 550 sq in this list, how big a garden do you need to grow this?...
A salad and
two
vegetables per day.  I'm aiming for a variety of  10 veggies per week in the off-season.
You're right that climate is a big factor in layout and planting times.  I accidentally ended up with two separate gardens, one for cool crops and one for warm crops which gets the most sun.  It makes planning easier because my spring cool garden is still mostly full when I do my summer warm crop planting, and my summer garden is full when I do my fall planting.  My fall cool crop planting is mostly a repeat of my spring planting.
The only succession planting I do is for some quick growing cool crops like rads, lettuce, and bok  choy.  
I have in the neighborhood of 600 sf.  Mostly SFG boxes; some is old school berms with 5 way compost laying on the ground; and at the moment, I probably have 40 pots of excess toms and peppers that I counted as 1 sf each.  
I'm still doing a lot of experimenting with my warm crop garden so the space isn't used as efficiently as the boxes.
@sanderson

wrote:Turan,  In March you had 232 SF.  Did you ever build the others you were planning?  Have you posted photos of the spread?  Thanks, Sanderson (who has 39 SF plus pots)
I have added a 2.5 X 12 bed (30sf) plus some pots in my new greenhouse.  Next year I will develope a similar sized bed on the other side of the greenhouse thus adding another 30sf.  So this year I have 270 sf in production.  That is enough to provide 4 adults with plenty of vegtables for the summer.  It would do better yet if I had not got sidetracked with a 3 sisters garden, corn is rather inefficient but fun to grow.  I will have some to freeze and can and heap but not near enough for us for the winter.  This is the first year I am putting some effort into a bigger broccoli fall crop.
I have posted pictures at various times in Western Plains and Mountains region forums.

Turan




Posts

: 2601


Join date

: 2012-03-29


Location

: Gallatin Valley, Montana, Intermountain zone 4



Camp,  You are correct.  We sure got off topic, at least I did!  
It was my fault. Sawee!! Camprn - thanks for keeping us on track.



grownsunshine




Posts

: 255


Join date

: 2013-05-22


Location

: So Cal: Zone 10a



Page 2 of 2 •
1, 2
---
Permissions in this forum:
You
cannot
reply to topics in this forum