Latest topics
»
Butternut squash sets world record at the State Fair of Virginia
by markqz Yesterday at 5:13 pm
»
Ohio Gardener's Greenhouse
by OhioGardener Yesterday at 4:29 pm
»
Closing beds for winter
by plantoid Yesterday at 4:25 pm
»
N&C Midwest September 2023
by OhioGardener 9/23/2023, 7:06 pm
»
Famous Gardening Quotes
by OhioGardener 9/23/2023, 12:51 pm
»
Foodbank's composting program creates food from food
by OhioGardener 9/22/2023, 8:29 am
»
What Have You Picked From Your Garden Today
by OhioGardener 9/21/2023, 1:15 pm
»
Turning existing garden beds into SFG
by jemm 9/20/2023, 7:35 am
»
updating my mix - what should I add
by
sanderson
9/18/2023, 5:04 am
»
Senseless Banter...
by
sanderson
9/16/2023, 11:37 pm
»
Walking stick kale
by
sanderson
9/16/2023, 12:27 am
»
Lumber and measuring for SFG boxes
by
sanderson
9/16/2023, 12:21 am
»
Avatar issues
by Guinevere 9/14/2023, 7:53 pm
»
Happy Birthday!!
by
sanderson
9/11/2023, 4:40 pm
»
When to harvest? / Watermelon seedlings
by
sanderson
9/9/2023, 6:07 pm
»
Hornets Nest
by
sanderson
9/8/2023, 8:15 pm
»
Tropical Storm Hilary
by jennyjo37 9/5/2023, 5:31 pm
»
A square foot garden in a round bed.
by alicej 9/4/2023, 3:39 am
»
Determinate Cherry Tomato for Greenhouse
by OhioGardener 9/2/2023, 6:52 pm
»
N&C Midwest August 2023
by
Scorpio Rising
8/31/2023, 9:01 am
»
Hurricane
by
Scorpio Rising
8/30/2023, 7:25 am
»
No-Fail Zucchini Bread
by OhioGardener 8/28/2023, 11:11 am
»
buying compost small town SW Pennsylvania
by
sanderson
8/27/2023, 6:41 pm
»
Phosphate
by
sanderson
8/27/2023, 3:43 pm
»
Topping brand new SFG box with more gorgeous compost???
by
sanderson
8/27/2023, 3:36 pm
»
8 Great Vegetables for Fall Planting
by
sanderson
8/27/2023, 2:58 pm
»
What are you eating from your garden today?
by OhioGardener 8/26/2023, 7:19 pm
»
Flowers to attract hummingbirds
by OhioGardener 8/26/2023, 6:59 pm
»
Hoss Tools Seeds 50% off
by OhioGardener 8/26/2023, 6:25 pm
»
Fall is For Garlic Planting
by OhioGardener 8/24/2023, 6:27 pm
We will be connected a rain barrel to our existing one and possibly a third. We only have two gutter downspout options that are not in the front of the house and that are not on a hill. The second downspout option has a small roof area.

If we have three rain barrels lined up to one downspout, then is there a particular rain barrel that we should be using first to use up the water? So we have rain barrels 1-2-3 and #1 is connected to the downspout.

What if there are only 2 rain barrels? Does the order of water usage change?

Thanks.




JustMe




Posts

: 237


Join date

: 2011-06-23


Location

: SE Wisconsin, Zone 5a



I really depends on how you have them set up.  Technically, you don't want to save water for longer than 10 days in your barrels according to the city where I live, but I do.  I have two barrel systems setup,  one on the West side of the house and one on the North side.  
North side barrels are (4) 60 gallon and one 55 connected so that they fill from the top.  (First one fills and then it starts spilling to the second and so on down the line).
My (4) West side rain barrels are connected at the bottom so that they are either at the same level or I remove the connecting hose and move it to another barrel to fill or use.  I use the oldest water first so I am not giving mosquitoes a home even though they all have lids.  
Here is a picture I found of my West side setup from last month.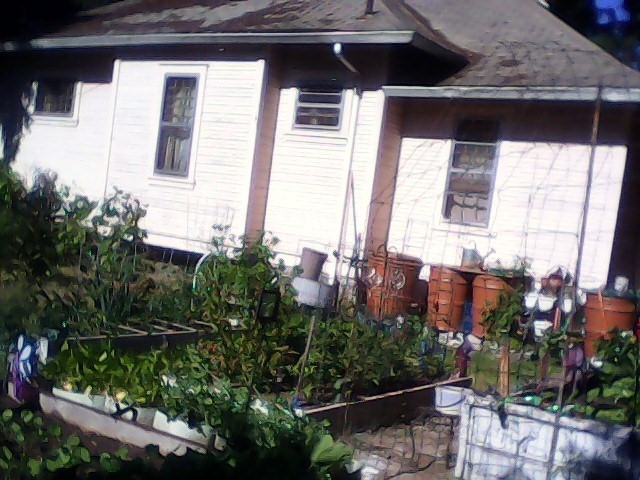 happycamper




Posts

: 304


Join date

: 2010-05-26


Location

: East County Portland, OR



Why not link them together, so that they act as one large water barrel; that way you are drawing from all three, and thus filling all three when it rains?
I use a product called a Uni Seal. You buy them based upon the size of PVC pipe you will use to connect the barrels; I'd recommend 1 1/2" at least; 2" is better (but the seals and PVC pipe are more expensive)
Here's the basic concept (ignore the pipes on top -- these are in my fishroom but am doing the same deal outside):
Uniseals connected at the bottom of the barrel (you will need a hole saw that corresponds with the size of pipe/Uniseal you are using).
Hope this helps or at least gives you an idea.

slimbolen99




Posts

: 185


Join date

: 2013-01-15


Location

: Shawnee, KS



Thanks for these posts. Hubby was thinking of connecting them at the tops because the rain barrel has circle on side near the top, where you'd drill a hole. I really like the connecting them at the bottom idea better so that they fill/drain together.


JustMe




Posts

: 237


Join date

: 2011-06-23


Location

: SE Wisconsin, Zone 5a



I use the Rain Brothers rain barrel system because mosquito's cannot get into the barrels and it is relatively inexpensive. Search Rain Brothers.

jross




Posts

: 3


Join date

: 2012-05-10


Location

: NJ



---
Permissions in this forum:
You
cannot
reply to topics in this forum