Latest topics
»
N&C Midwest: June 2023
by
Scorpio Rising
Today at 2:50 pm
»
Famous Gardening Quotes
by OhioGardener Today at 10:18 am
»
Easy Refrigerator Pickles from Extra Produce
by OhioGardener Today at 9:25 am
»
Tea Time -- Compost Tea, that is
by OhioGardener 6/3/2023, 7:07 pm
»
Hello from Central Missouri, Zone 6a
by
Scorpio Rising
6/3/2023, 3:48 pm
»
N&C Midwest: May 2023
by OhioGardener 6/1/2023, 8:55 pm
»
Kiwi's SFG Adventure
by KiwiSFGnewbie 5/31/2023, 4:32 pm
»
Walking stick kale
by
sanderson
5/31/2023, 1:38 pm
»
Why Letting Weeds Run Wild Can Actually Help Your Garden
by
sanderson
5/30/2023, 2:35 pm
»
What are you eating from your garden today?
by OhioGardener 5/30/2023, 12:11 pm
»
Teaming with Microbes Kindle Sale (Mem. Day weekend 2023)
by
sanderson
5/29/2023, 3:14 pm
»
Mid-Atlantic New Host Intro & Info
by JAM23 5/29/2023, 8:38 am
»
Paul's First SFGs
by pkadare 5/28/2023, 11:06 am
»
Poppy seeds - Hungarian Blue Breadseed
by
AtlantaMarie
5/28/2023, 6:12 am
»
Sluggo Plus
by
sanderson
5/27/2023, 3:23 pm
»
What Have You Picked From Your Garden Today
by OhioGardener 5/25/2023, 6:25 pm
»
Centpedes
by OhioGardener 5/25/2023, 6:19 pm
»
beneficial nematodes
by OhioGardener 5/24/2023, 9:18 pm
»
Senseless Banter...
by markqz 5/24/2023, 5:39 pm
»
Pre-Filling a 30" Raised Bed
by toledobend 5/24/2023, 1:10 pm
»
Happy Birthday!!
by
AtlantaMarie
5/24/2023, 7:03 am
»
Aphids & Their Predators
by MrBooker 5/24/2023, 6:01 am
»
Hello from Bobcaygeon, Ontario
by
Scorpio Rising
5/20/2023, 1:52 pm
»
Spring Flowers
by OhioGardener 5/18/2023, 6:23 pm
»
My Solar Dehydrator at Work
by
sanderson
5/18/2023, 3:10 pm
»
French Tarragon
by
sanderson
5/18/2023, 12:41 pm
»
Birds of the Garden
by
sanderson
5/15/2023, 8:49 pm
»
New Compost PIle, 2nd attempt
by Chuck d'Argy 5/13/2023, 11:43 am
»
Ohio Gardener's Greenhouse
by OhioGardener 5/11/2023, 6:44 pm
»
Asparagus
by
sanderson
5/11/2023, 4:11 pm
I read about using cages in the book. I'm considering this because I know there are rabbits and squirrels on the property. Construction instructions indicate 4 ft sides so i'm assuming this sits on top of the the 4x4 ft box. Seems to me it would be better for it to be larger than the box so it sits on the ground.
Does anyone have experience with using the cages? What works?

azure639




Posts

: 2


Join date

: 2013-05-30


Location

: Big D



Cages that sit on the ground interfer with mowing and weed-eating around boxes. Cages that sit on the wood bed can crush bushy or drapy plants.
I pondered this
, and went with a pvc and bird-net with pvc legs fitting into metal u-shaped clamps. One benefit is simple to build. A handsaw to cut pvc and a screwdriver to attach the clamps to the box -- inside the box.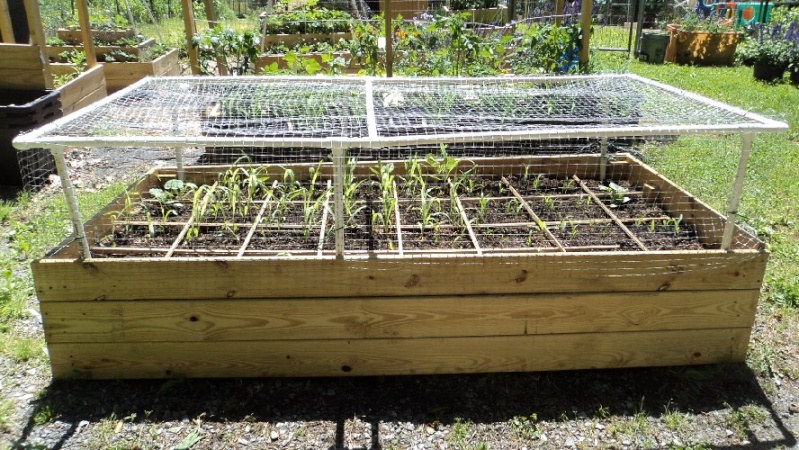 Zip-ties tighten the mesh enough to tug down over the sides of the bed so critters can't climb on up. Also netting keeps birds -- danged blasted crows -- from eating my seedlings.

ETNRedClay




Posts

: 210


Join date

: 2013-04-12


Location

: East Tennessee of course



It's tough to find the perfect durable critter cage. I have the kind described in the book that's made with wood and chicken wire on most of my 8 boxes. For an immediate solution it worked rather well the first couple years. But they age faster than I expected. The oldest cages are 3 years old and the plastic zip ties are snapping off and the wood has become wobbly and warped. When I put on shade cloth it catches and tears from sharp wire edges. I could cover those edges with duct tape but don't like that idea. Plants around the outside edge get shredded or torn up somewhat too. Getting tired of that.
I've looked for years at all the pictures on this forum and my replacement covers will be pvc with soft netting. Will those last longer than 3 years? We'll see.

llama momma


Certified SFG Instructor




Posts

: 4921


Join date

: 2010-08-20


Location

: Central Ohio zone 6a



PVC pipe has a short lifespan in direct sun. That's OK. IF I like this cage into the fall -- so far it's PERFECT -- I'll rebuild it with electrical conduit and velcro, or maybe pipe strapping. But it was an experiment to see if:
1) I could keep from smashing plants on the edge -- YES
2) It would stay up off the ground for mowing -- YES
3) Keep nasty crows and rabbits off my LUNCH -- YES

It started life on the potato bed, then moved to the 4-sisters bed, and is currently sitting on a daylily bed because I haven't finished filling the second 4-sisters bed yet... then it will move there for a while.

ETNRedClay




Posts

: 210


Join date

: 2013-04-12


Location

: East Tennessee of course



Thank you. Then I'll scrap pvc since my beds receive over 12 hours direct sunlight. Looks like conduit is the next choice. I have roof shingles that ring all the boxes effectively eliminating weeds. New cages could sit outside the box but will need to be taller to compensate for the height of the wood bed. Have to keep it very simple, probably building it myself.

llama momma


Certified SFG Instructor




Posts

: 4921


Join date

: 2010-08-20


Location

: Central Ohio zone 6a



---
Permissions in this forum:
You
cannot
reply to topics in this forum