Latest topics
»
Steves first SFG
by
Simso
Today at 6:45 pm
»
What are you eating from your garden today?
by
Blossom137
Today at 3:35 pm
»
Sauerkraut & fermenting veggies
by
sanderson
11/25/2021, 6:23 pm
»
Kombucha
by
anabelarto
11/25/2021, 9:34 am
»
Happy Thanksgiving 2021!
by
sanderson
11/25/2021, 1:21 am
»
Microbes...you gotta see this one !!!
by
has55
11/25/2021, 12:24 am
»
The SFG Journey-Johnson Su Bioreactor for composting, No turning
by
has55
11/25/2021, 12:19 am
»
Happy Birthday!!
by
sanderson
11/23/2021, 4:03 am
»
Hi from Las Vegas
by
OhioGardener
11/22/2021, 11:35 am
»
What Have You Picked From Your Garden Today
by
sanderson
11/21/2021, 9:39 pm
»
N&C Midwest—November/December 2021
by
Scorpio Rising
11/21/2021, 12:31 pm
»
Another hello, Australia - Perth
by
Simso
11/20/2021, 7:47 pm
»
Anyone grow okra?
by
sanderson
11/18/2021, 10:44 pm
»
CANADIAN REGION:What are you doing July to December 2021
by
Kelejan
11/18/2021, 9:46 pm
»
Closing beds for winter
by
sanderson
11/18/2021, 2:30 am
»
Steam canning?
by
sanderson
11/18/2021, 2:28 am
»
Where food comes from - a Poem
by
Yardslave
11/17/2021, 11:23 am
»
Fitness Trackers/Fitbit Users
by
martinjery
11/15/2021, 9:29 am
»
2021 SFG in Brooks, Ga
by
sanderson
11/14/2021, 8:42 pm
»
November: What to plant in Northern California and Central Valley areas
by
sanderson
11/14/2021, 1:53 pm
»
California's Drought
by
sanderson
11/14/2021, 1:45 pm
»
N&C Midwest — October 2021
by
sanderson
11/14/2021, 1:25 pm
»
Hello from the UK
by
yolos
11/13/2021, 11:05 pm
»
can you identify this insect
by
sanderson
11/12/2021, 11:46 pm
»
Ladybug, ladybug
by
sanderson
11/12/2021, 8:37 pm
»
Famous Gardening Quotes
by
sanderson
11/12/2021, 3:55 pm
»
Sweet Potatoes
by
sanderson
11/11/2021, 9:29 pm
»
Hello from West Palm Beach, FL
by
dstack
11/11/2021, 12:27 pm
»
Potato growing
by
OhioGardener
11/4/2021, 7:41 am
»
The SFG Journey: The Origins of Compost
by
has55
11/4/2021, 2:11 am
I can't find my original post on this but thought you might like an update on what's happening.
When I ordered my greenhouse cover, I expected it to have the netting inserts in it as advertisied: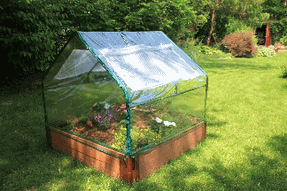 As you can see above, there are inserts in the roof so when it gets warm one can open up the plastic and insects can't enter.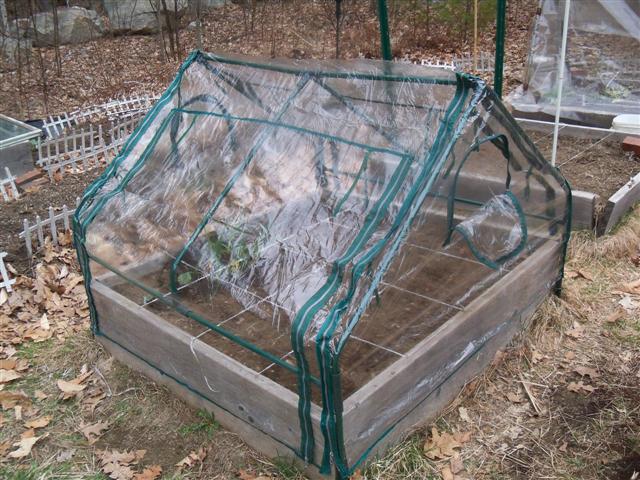 What I received is this shown above. The sides roll up completely on both sides but there's no inserts. I've been in contact with the supplier. They informed me that the item was changed yet they were not notified, hence the mix up. They think they found one still available and will be mailing me one in the next week or so.
I just wanted you to know that if you order from Frame it All you just might not be getting what you expected.
Personally, I like the idea of the sides opening up completely for the warm season. I won't be sending it back. I can always place netting or insect barrier over the openings to foil the insects.
With the sides opening from the bottom, it makes working inside simpler. No reaching in awkwardly over a plastic barrier.

quiltbea




Posts

: 4712


Join date

: 2010-03-21


Age

: 79


Location

: Southwestern Maine Zone 5A



I like this and may get one for the fall. Do you have any idea of the number of degrees of frost protection that the cover provides. I know it depends somewhat on the climate during the day, but is this just frost protection or does it provide more protection for colder weather. I may not be wording this correctly, but if the outside temperature is 30 degrees, what would you assume the inside temperature would be in the middle of the night.

yolos




Posts

: 4073


Join date

: 2011-11-20


Age

: 71


Location

: Brooks, Ga Zone 7B/8A



I have three of these mini green houses. I would give them mixed reviews.

1. They're easy to assemble and disassemble.
2. We do not live in a high wind or heavy storm area but 2 of the 3 had the zippers tear and separate from the plastic.
3. They provide minimal protection from cold. We bought old style Christmas outdoor lights and turned them on when it got below 38.
4. When it got closer to freezing, we covered all three greenhouses with an additional layer of heavy weight silver tarp.
5. When it dropped below freezing for an extended period of time, we turned off the lights and added a small electric heater under the tarp.
6. In the spring, they're very nice to use for warming up the beds during the day time. Because they're somewhat porous to the wind, they don't tend to over heat. That may have been our fault about the wind as the plastic doesn't overlap the wood on our units so the bottom lets wind in. That may also have contributed to the tearing of the plastic, I can't be certain. However, the venting works nicely and I felt they gave a great early start for the spring.

I will be buying a larger greenhouse unit this year. We found one at Lowe's/HD that is a pipe style with a heavy plastic cover that got very good long term reviews. We think it will be more efficient to keep one structure warm than what we had to do with these three. We will use them to get things started in the spring however and will also use the structure for hanging shade cloth in the heat of the summer so they'll be handy for that.

EDIT: I forgot to add that I have one of the original design and two of the newer without the bug screens. I think it's a trade off in some ways. It's hard to keep them open when you don't want the bug screen - I used some additional clips to clip them to the frame. The higher front edge with the bug screen unit makes it more awkward to reach into the box to tend things (mine are table tops). I like either of them for different reasons so I'm not sure which I would prefer.
audrey....That sounds like a sensible review.
yolos....I have no idea what degrees it protects, but I know that last nite hit 30F and I had it closed up. Everything did fine overnite, including the celery which is not frost tolerant. The Chinese cabbage looks bright and healthy. In future, when it drops colder, below 30, I think I'll be out with a blanket over the top.
I'm going to be transplanting some tiny tomatoes this weekend and start some bush cuke seeds in there. I have pot-sized eggplants but they aren't quite big enough.
For my purposes, I think it will work fine. I wanted to be able to transplant out some things a bit earlier and to protect easily against insects and to close it up at nite easily. I, too, love those zipped vent flaps on the sides.
Mine goes down right around the base of my raised bed so there are no gaps for wind penetration.
Until I use it for the whole season, I don't think I am qualified to give an honest review of the product.
At this point, I'm happy with it.
Above is l to r: Swiss chard, Cauliflower, Chinese cabbage.

quiltbea




Posts

: 4712


Join date

: 2010-03-21


Age

: 79


Location

: Southwestern Maine Zone 5A



I forgot to add that the ribbons used to tie these to the frame disintegrated in the 6 months they were in use :-(
Quiltbea; How have your greenhouses held up?
I just ordered my new greenhouse this week.  I want to have plenty of time to put it up and get ready for the winter.  I'm planning to be growing lots of plants before the winter comes and then basically harvesting as long as I can.  I discovered last winter that trying to "grow" from seed in the winter is downright silly and a pretty unprofitable use of time!
Here's what I settled on, it's arriving tomorrow:
http://www.greenhousemegastore.com/product/grow-it-10-x-20-peak-style-greenhouse/hobby-greenhouses-under-_1_000
Our winters are so mild (down to the mid-20s) off and on for maybe 8 weeks. I'm researching past posts right now to pick up tips for setting it up and using it. That's how I ran into your post again :-)
Off to read more,
aj
For all who enjoy these plant shelters, consider this maybe..
Crockpot/s for heat inside enclosures.
Not going to heat up the place, however will take the chill off and add humidity when full of water.
The water will come to about 150 degrees without the lid. higher with lid on
I used one in my seed enclosure last winter and it worked nicely with loads of moisture inside the tent.
May or may not work in larger areas, just an idea to try

jimmy cee


Certified SFG Instructor




Posts

: 2215


Join date

: 2013-02-16


Age

: 86


Location

: Hatfield PA. zone 6b



My update is the zippered corners are separating.  Too much stress I'm thinking.  If I'd bought the whole frame, it might have not split since it would fit perfectly.  Mine is settled over my own raised bed.
Another point, they never sent me the replacement they promised.  According to them, they don't make them anymore and a spare couldn't be found.  Remember, the one  pictured and that I ordered had an insect-barrier insert.  The one they sent me just unzipped around the sides to lift out of the way.  I preferred the insect-barrier type.
Needless to say, I'm not very happy with the final results.

quiltbea




Posts

: 4712


Join date

: 2010-03-21


Age

: 79


Location

: Southwestern Maine Zone 5A



Bummer, sorry to hear that.

I've read a lot of reviews on Amazon, and some of the greenhouses that look the most practical, well-thought-out, and appropriate for my purposes come with the worst reviews. Greenhouses look like the kind of thing that a personal real-life recommendation from someone you trust is worth a lot and could save a person plenty of time and money.

Hopefully you might get some recommendations from some of our other forumites?


Marc Iverson




Posts

: 3638


Join date

: 2013-07-05


Age

: 60


Location

: SW Oregon



---
Permissions in this forum:
You
cannot
reply to topics in this forum