Latest topics
»
My Own Fault, but haven completely confused myself
by
sanderson
Yesterday at 9:51 pm
»
N&C Midwest: March & April 2023
by JAM23 Yesterday at 7:02 pm
»
SFG in the 916? First Time MM "Build"...
by OhioGardener Yesterday at 6:45 pm
»
Think Spring 2023
by KiwiSFGnewbie Yesterday at 3:42 pm
»
New study finds plants 'scream' when stressed or injured
by OhioGardener Yesterday at 9:23 am
»
Attracting Beneficial Insects Such As The Aphidius Wasp
by dstack Yesterday at 7:05 am
»
So. California & Inland Valleys -March / April Planting Guide
by
sanderson
3/30/2023, 4:45 pm
»
April: What to plant in No. California/Central Valley area
by
sanderson
3/30/2023, 4:41 pm
»
Planting Seed Potatoes vs Store bought potatoes.
by markqz 3/29/2023, 11:49 pm
»
Happy Birthday!!
by
AtlantaMarie
3/29/2023, 6:51 am
»
Bunk Feeder for Bed
by Lizlo_FL 3/28/2023, 6:27 pm
»
Weird spots on tomato leaves seedlings
by Mattlund 3/28/2023, 4:56 pm
»
soil block makers
by OhioGardener 3/28/2023, 1:27 pm
»
Greenhouse - Helpful Hints in Setting up a Wood-Framed Greenhouse
by sunflowersarefun 3/28/2023, 1:13 pm
»
Sourdough Starter
by
Scorpio Rising
3/28/2023, 9:03 am
»
Hurricane
by yolos 3/27/2023, 10:27 pm
»
Winter Lag - Waiting for Sprimg
by WhiteWolf22 3/27/2023, 12:39 am
»
Kiwi's SFG Adventure
by
sanderson
3/25/2023, 10:11 pm
»
Mixing Mel's Mix
by
sanderson
3/25/2023, 4:08 pm
»
Hi from Northern VA!
by onebirdiema 3/25/2023, 4:06 pm
»
Sifted Peat
by
sanderson
3/25/2023, 3:40 pm
»
Can I Use this As My 5 Sources of Compost?
by
sanderson
3/25/2023, 3:36 pm
»
Green onions
by OhioGardener 3/25/2023, 8:28 am
»
Nero Di Toscana Cabbage or Black Palm Tree
by Paul Crowe 3/25/2023, 6:01 am
»
Chinese Cabbage and Radicchio, spacing?
by Paul Crowe 3/25/2023, 5:40 am
»
finished my SGF garden
by
sanderson
3/25/2023, 3:49 am
»
need specific advice on MM
by
sanderson
3/25/2023, 3:42 am
»
Compost from Five Different Sources
by
sanderson
3/25/2023, 3:32 am
»
Indoor seed starting question
by Simso 3/24/2023, 8:30 pm
»
Senseless Banter...
by OhioGardener 3/22/2023, 8:11 pm
This is my first time trying to grow broccoli or cauliflower. I've read through a bunch of threads and haven't seen an answer for what this might be.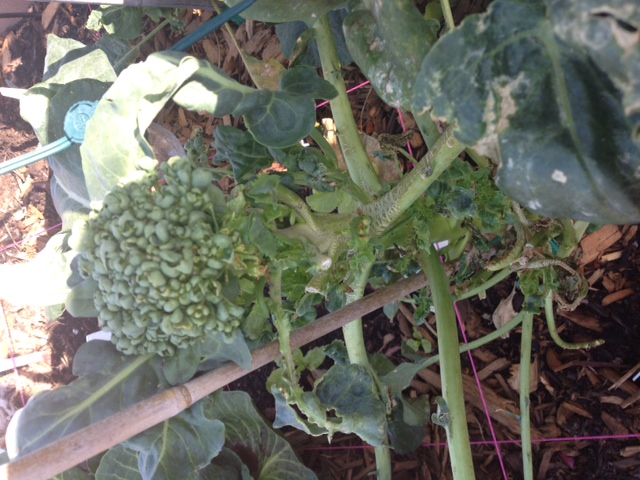 This started out as a beautiful healthy plant that was attacked by aphids. I've sprayed them off with water, used insecticidal soap spray and don't have much aphids on them right now, but a pair of cabbages in the box next to them are still riddled with aphids.
The leaves got tightly curled and small, the head looks weird and there seems to be scaly patches on the leaf stems.
Help!!!
I definitely looks diseased. I would pull them all, including the aphid infested ones. I have never seen it personally but do some research on clubroot and look at the roots when you dig them out.Try lifting the entire root system with a fork so as not to break any off.
Best bet for diagnosis is contacting your county Exension Service Ag Agent. Bring to them the plant or good photos of the plant in question.
____________________________
43 years a gardener and going strong with SFG.
https://squarefoot.forumotion.com/t3574-the-end-of-july-7-weeks-until-frost
There are certain pursuits which, if not wholly poetic and true, do at least suggest a nobler and finer relation to nature than we know. The keeping of bees, for instance. ~ Henry David Thoreau
https://squarefoot.forumotion.com/t1306-other-gardening-books
I pulled it up, the cauliflower next to it and the two cabbages in the same box since they're all in the same family and none were healthy. There was nothing amiss with the roots of all of them.

Is there anything else I should avoid replanting in that space?

I need to spend some time now thinking about what to plant. I think this is related to my discovering that the peat wasn't calculated off of the bag numbers. I have too much peat in my mix and have been heavily adding compost every time a square is available to bring it up to standard.

Thanks for the assistance,
aj
AJR ,
I don't think that would distort your plants the compost if finished would cause the plants to grow lots of greenery .

Several things can wreck a plant like that . Have you been spraying with a pesticide from an areosol can ?
Some are bad for brassica
Have you watered the garden with a watering can that may have previously in months gone by contained weed killer ?

What was your compost made of , did you make it yourself /

Another is do you have any local authority made compost in your mix or have you used any selective weed killer on the lawn and put clippings from it into your compost ?

plantoid




Posts

: 4090


Join date

: 2011-11-09


Age

: 72


Location

: At the west end of M4 in the UK



---
Permissions in this forum:
You
cannot
reply to topics in this forum