Latest topics
»
2021 SFG in Brooks, Ga
by
yolos
Today at 11:36 am
»
Message from Sanderson
by
yolos
Today at 10:20 am
»
Hello From Far Southwest Texas and Northwest Ohio
by
AtlantaMarie
Today at 7:29 am
»
Questions about compost for Mel's Mix
by
sanderson
Yesterday at 11:33 pm
»
Planted store bought Garlic last fall.
by
jimmy cee
Yesterday at 10:03 pm
»
beginning new compost bins
by
jimmy cee
Yesterday at 9:53 pm
»
trellis & Green Beans
by
donnainzone5
Yesterday at 4:22 pm
»
Are these good for first mel's mix?
by
sanderson
Yesterday at 2:27 pm
»
Is this enough variety for compost mix?
by
sanderson
Yesterday at 2:14 pm
»
Grids: Colored PVC & Fittings
by
bigtex52
Yesterday at 2:08 pm
»
A ghost of Christmas past & the weather forecast
by
plantoid
5/5/2021, 11:53 pm
»
Coconut coir
by
Missed-Em
5/5/2021, 4:19 pm
»
The SFG Journey- Soil Food Web
by
has55
5/5/2021, 3:28 pm
»
The SFG journey- Views Of Microbes
by
has55
5/5/2021, 3:25 pm
»
N&C Midwest—May 2021
by
nrstooge
5/5/2021, 7:32 am
»
Western Pa
by
jimmy cee
5/4/2021, 11:56 pm
»
Compost Tumblers
by
jimmy cee
5/4/2021, 11:15 pm
»
Sunshine is NOT your friend.
by
yolos
5/4/2021, 8:14 pm
»
Separating Starts
by
Fishtell
5/4/2021, 6:48 pm
»
Invaders!
by
OhioGardener
5/4/2021, 11:37 am
»
What are you eating from your garden today?
by
Scorpio Rising
5/3/2021, 6:30 pm
»
Biochar?
by
Yardslave
5/3/2021, 11:34 am
»
Restarting a Indeterminate Tomato from a sucker
by
deonb
5/2/2021, 1:04 pm
»
May and June 2021 in New England
by
mollyhespra
5/1/2021, 10:45 pm
»
Why five sources for your compost? One explanation.
by
jimmy cee
4/30/2021, 10:43 pm
»
N&C Midwest: March and April 2021
by
OhioGardener
4/30/2021, 1:44 pm
»
Starbucks for coffee grounds!
by
OhioGardener
4/30/2021, 8:42 am
»
Square Foot Gardening on Ontario's West Coast
by
FRED58
4/30/2021, 7:53 am
»
Molly's New Garden 2021
by
seamammal
4/29/2021, 11:17 pm
»
Good Gardening Movie
by
mollyhespra
4/29/2021, 9:24 pm
Page 2 of 2 •
1, 2

Ray'ssfg




Posts

: 122


Join date

: 2010-03-02


Age

: 75


Location

: Paynesville, Victoria, Australia




Ray'ssfg




Posts

: 122


Join date

: 2010-03-02


Age

: 75


Location

: Paynesville, Victoria, Australia



Ray, everything looks absolutely terrific! I like those little round marrows and the chard is beautiful... or is it boc choy?

____________________________
43 years a gardener and going strong with SFG.
https://squarefoot.forumotion.com/t3574-the-end-of-july-7-weeks-until-frost
There are certain pursuits which, if not wholly poetic and true, do at least suggest a nobler and finer relation to nature than we know. The keeping of bees, for instance. ~ Henry David Thoreau
https://squarefoot.forumotion.com/t1306-other-gardening-books
Absolutely beautiful
Ray!
Thank you for sharing with us!
Love your garden!
Rose

FamilyGardening




Posts

: 2424


Join date

: 2011-05-10


Location

: Western WA



TWO ft of MM?!?
No wonder those veggies are so huge! Two ft of MM...I can't even imagine that. How did you mix it up? It's all I can do to tarp/mix 6 inches...
CC

CapeCoddess




Posts

: 6824


Join date

: 2012-05-20


Age

: 65


Location

: elbow of the Cape, MA, Zone 6b/7a



Ah, you are making me feel like it is cool here (86 degrees F expected here today) but, then again, it's our winter, lol!

elliephant




Posts

: 842


Join date

: 2010-04-09


Age

: 45


Location

: southern tip of Texas zone 9



Erica and Ray (and other Aussies), how are you both going with this crazy weather (and natural disasters), are your gardens still alive? We've had some rain here over the past 3 days, the plants are enjoying it although other places need it more than I do.
I also wanted to share the first seedlings that will be transplanted into my future SFG, I've decided that half of it (6 squares) will be for the bunny garden and the other half assorted vegetables.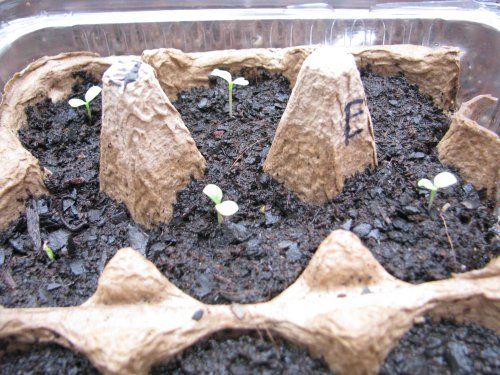 Endive seedlings, just 5 days after sowing.

Toady




Posts

: 15


Join date

: 2013-01-04


Location

: Mid North Coast, NSW, Australia



@ericam

wrote:

Sad little specimens but I forgot to buy carrots and there aren't any big ones left in the garden. Oh well, baby carrots are trendy aren't they?
Erica, how much MM are you growing them in? We have 12" raised beds which are filled with MM, but before we put the MM in, we tilled the soil where the beds would be and mixed MM and compost in. Then we laid our raised beds down (nothing on the bottom of them) over that and piled in the MM. We did that because of root crops and have always had great success with carrots. We also grow them in the fall, winter & spring because they don't do as well in the heat. The MM grows them super sweet and I have a hard time keeping hubby and daughter out of them until they can get larger!! The photo below is my 16 year old daughter, Leah, with her guinea pig Bugsy, who thoroughly enjoys my gardening efforts to provide her with fresh carrots (including the greens) and all the greens she can eat! The one Leah is holding was more than twice as long, but we had to have a taste before giving it to Bugsy! These were planted 9/28 and this one was just picked 2 days ago.

johnsonjlj




Posts

: 76


Join date

: 2012-03-11


Age

: 54


Location

: Lake City, FL 8b



Toady
Your seedlings look great and I wish I remembered to save me egg cartons for seed starting.
I hope you are safe with all the fires going on, sounds like a very hot summer there.
janet

GWN




Posts

: 2804


Join date

: 2012-01-14


Age

: 64


Location

: british columbia zone 5a



Johnsonjlj, I've got about 8" of MM. The carrots that I planted in Feb and March last year did really well but everything since then has been pretty sad. I don't think they got enough sun over winter and then when I planted the next batch in late spring it got hot very quickly.

Janet it has been a record summer here, we had the hottest day on record in Sydney on Friday, it hit 48C (118.4F) in some areas. The heat is contributing to the fires but most of the problem is the cool wet summer last year. Lots of growth happened and no back burning so there's lots of fuel out there in the bush, makes the fires very hard to control.

At one point the other week there was 140 fires in NSW and at any given time at least 40 of them were out of control. Luckily for me I'm in a pretty safe area but my parents and my sister both live near bush so they need to be prepared for anything.

Toady, my garden is surviving but I'm having to water twice a day most days. My tomatoes have now taken off and I'm picking at least 3-4 a day and my cucumbers have slowed down a little bit but I still have more than I need. Note to self, only plant one cucumber next year! Either that or get organised and do pickles...


ericam




Posts

: 283


Join date

: 2012-01-27


Age

: 44


Location

: Grenfell, NSW, Australia



Hi Folks,
It has not been so hot this past week and my garden has really perked up. There are big fires about an hour away but will not impact on us. It is moving through the forest mostly but comes out into the farming land when the wind gets up. Thursday is expected to be very bad.
Picking a bucket of tomatoes every second day, 12 jars of relish and pickles so far. Also getting about 4 zucchinni and 4 cucumbers every day. Keeping the residents in our court supplied.
Lots of beans, red beet, onions, peppers and lettuce. Have now harvested over $800 worth of veg's since September. Other than potatoes we are not buying any veg's at all.
Planted my first seeds by the moon this week.
Also a good week to feed with seasol so did everything including the roses and all the flowers.
Finally getting some nice carrots as they would not strike in the spring. Well that is what I thought but discovered it was the "minor birds" biting them off. I have now put netting over each bed and presto, I now have seeds coming up everywhere.
I will post some photos.
Toady, yours seeds look strong and healthy, post more photos as they grow.
Ray

Ray'ssfg




Posts

: 122


Join date

: 2010-03-02


Age

: 75


Location

: Paynesville, Victoria, Australia



Page 2 of 2 •
1, 2
---
Permissions in this forum:
You
cannot
reply to topics in this forum