Latest topics
»
N&C Midwest: August 2020
by
OhioGardener
Yesterday at 7:50 pm
»
August planting
by
has55
Yesterday at 10:41 am
»
texas worm ranch classes
by
has55
Yesterday at 10:40 am
»
Jalapeños - Time to start canning!
by
Scorpio Rising
8/12/2020, 9:07 pm
»
Pesto
by
has55
8/12/2020, 2:15 pm
»
CANADIAN REGION: What are you doing July, August, September
by
Kelejan
8/12/2020, 7:19 am
»
my worms are gonna get hungry
by
p14shooter
8/11/2020, 6:45 pm
»
Tom Thumb
by
p14shooter
8/11/2020, 6:35 pm
»
Tomato Tuesday - 2020
by
plantoid
8/10/2020, 8:31 pm
»
another idea from do nothing gardening-composting tea
by
plantoid
8/10/2020, 7:46 pm
»
Green Chili's
by
OhioGardener
8/10/2020, 6:55 pm
»
2020 SFG in Brooks, GA
by
sanderson
8/10/2020, 6:25 pm
»
2020 SFG Adventures in Hampstead, NC
by
sanderson
8/10/2020, 5:37 am
»
Newbie SFGer in N. Virginia needing some advice
by
novablue
8/9/2020, 7:29 pm
»
Hardcore Sustainability - Urban Homesteading
by
TCgardening
8/9/2020, 12:23 pm
»
A couple of recipes for when the tomatoes show up ;-)
by
Scorpio Rising
8/9/2020, 9:35 am
»
Tomato Mosaic Virus...Fearing the Worst :(
by
Yardslave
8/7/2020, 12:26 pm
»
The SFG journey-Overview of the Redesign Compost Tea Brewer
by
has55
8/7/2020, 3:50 am
»
Tampa newbie
by
TCgardening
8/6/2020, 9:11 am
»
Pull Bean Plants to Pick Beans?
by
Scorpio Rising
8/5/2020, 8:45 pm
»
Safety of cardboard in compost
by
Scorpio Rising
8/5/2020, 8:42 pm
»
Succession seed sowing now
by
Scorpio Rising
8/5/2020, 8:37 pm
»
Hello from southern Wisconsin
by
AtlantaMarie
8/5/2020, 6:07 am
»
Stroke - Country Naturals
by
countrynaturals
8/4/2020, 7:28 pm
»
Cheerleaders needed, please. This is daunting.
by
mollyhespra
8/4/2020, 2:19 pm
»
Almost 68, and this is a new one on me !!!!
by
sanderson
8/4/2020, 2:06 pm
»
SFG Journey: Beneficial nematodes experiment
by
has55
8/4/2020, 1:01 pm
»
New England, August, 2020
by
SFGHQSTAFF
8/4/2020, 4:18 am
»
Earwigs 2.0!
by
OhioGardener
8/3/2020, 2:52 pm
»
Happy Birthday!!
by
Scorpio Rising
8/3/2020, 12:56 pm
Well, first of all, my SFG is doing really well.
but, I'm working on a business producing and marketing hydroponically/aquaponically grown organic vegetables, herbs and flowers.
Hydroponics is a technology for growing plants in nutrient solutions (water containing fertilizers, organic or otherwise) with or without the use of an artificial medium (sand, gravel, vermiculite, rockwool, perlite,peatmoss. coir, or sawdust) to provide mechanical support. It's highly productive, conservative of ...water and land, and protective of the environment.
Aquaponics fuses aquaculture with hydroponic vegetable, flower, and herb production.In an aquaponics, water from the fish tank circulates through a grow bed where the plants are grown without soil. bacteria convert fish waste into nutrients. The plants use these nutrients as their food supply.water is filtered by the plants in the grow beds, giving the fish clean water to live in.
we're calling the business "Hooked on Ponics"
I build a small test system, the technique I'm using is called nutrient film technology (NFT) in an NFT system the nutrient solution passes through a channel or pipe and the roots of the plants are suspended above the solution, the bottom half of the roots are sitting in the solution and the top half are exposed.
here is my test system, it was made with sections of vinyl fence post 4"x4". I added endcaps for the posts and installed bulkhead fittings for water flow.
the water/solution is pumped to the top growbed via an aquarium powerhead, it's sitting at a slight angle and water flows out of the top into the bottom growbed and back into the reservoir.
the plants sit in the net pots that hang inside the vinyl post and are held in place in the net pots with grow medium , in this case it will be expanded clay pellets. nutrient rich water flows just below the pots and plant roots grow down and hang into the solution.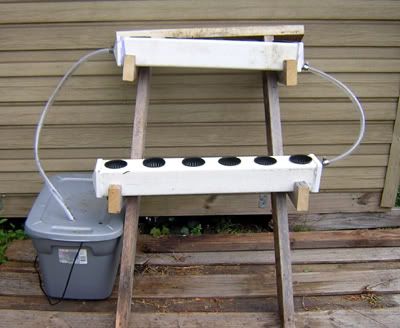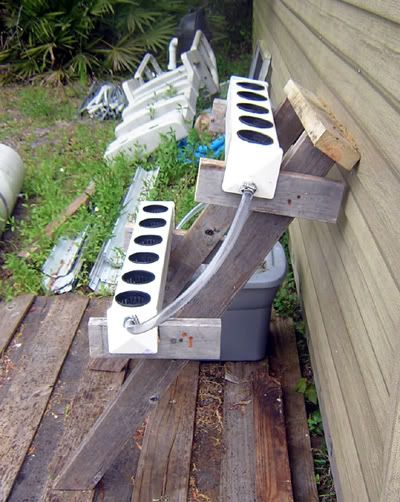 I had to seal a few spots in the tubing today but i'll be adding plants tomorrow. The experiment I did with the coffee can is doing really well, the growth rate was at least 2x as fast as the same plant grown in soil.
this will give you an idea of how the plants will sit in the growbeds
Very cool. So is this going to sit outside all the time? What are you going to grow in this test one? Finally there is going to be fish in the gray tote?
It's going to be an outdoor system, I have another tote that will house the electrical gear. I have a few vegetables started in rockwool starter cubes, tomatoes, cukes, peppers,squash, eggplant, swiss chard and basil.

I wont be adding fish to this system, I'm just trying to get past the learning curve before I add fish and with the heat around here the water in the small tote would got too hot for them.

I'm going to leak check the system tomorrow and then if everything works well I'll add a few plants. I'll keep you posted.
So you adding some nutrients to the water then? It would be nice if you could make some videos like youtube of this.
---
Permissions in this forum:
You
cannot
reply to topics in this forum