Latest topics
»
What Have You Picked From Your Garden Today
by OhioGardener Today at 5:36 am
»
Senseless Banter...
by
sanderson
Yesterday at 10:31 pm
»
N & C Midwest: November/December 2023
by
sanderson
11/27/2023, 9:23 pm
»
FREE Online SFG Class - November 28, 2023
by
sanderson
11/27/2023, 9:21 pm
»
Strawberry Varieties?
by Chuck d'Argy 11/27/2023, 2:23 pm
»
Mini-Raised Beds?
by Chuck d'Argy 11/27/2023, 2:14 pm
»
Happy Birthday!!
by
sanderson
11/26/2023, 10:58 pm
»
Mark's first SFG
by
sanderson
11/26/2023, 10:56 pm
»
Name the mystery (to me) seedlings! :-)
by Psdumas 11/25/2023, 12:04 am
»
Happy Thanksgiving from the USA
by
sanderson
11/23/2023, 1:47 pm
»
Strawberries in MM: to feed or not to feed?
by
Scorpio Rising
11/22/2023, 10:42 pm
»
Guatemalan Green Ayote Squash
by OhioGardener 11/21/2023, 8:27 am
»
Kiwi's SFG Adventure
by
sanderson
11/20/2023, 2:06 pm
»
Seeds 'n Such Early Order Seeds
by
sanderson
11/20/2023, 1:13 pm
»
USDA Plant Hardiness Zone Map
by OhioGardener 11/19/2023, 7:12 am
»
AeroGarden for starting seeds?
by OhioGardener 11/16/2023, 12:40 pm
»
Biochar?
by OhioGardener 11/16/2023, 10:31 am
»
2023 - Updated U.S. Interactive Plant Hardiness Map
by
sanderson
11/15/2023, 6:18 pm
»
SFG Is Intensive Gardening
by
sanderson
11/14/2023, 3:26 pm
»
Teaming with Microbes Kindle Sale (Mem. Day weekend 2023)
by markqz 11/10/2023, 12:42 am
»
Bok Choy Hors d'oeuvres
by
donnainzone5
11/9/2023, 5:58 pm
»
Now is the Time to Start Preparing Next Year's Spring Garden
by OhioGardener 11/9/2023, 7:13 am
»
Shocking Reality: Is Urine the Ultimate Gardening Hack or Disaster?
by dstack 11/6/2023, 5:29 pm
»
Nightmare on Mel Street.
by
Scorpio Rising
11/4/2023, 6:37 pm
»
Aerogardening
by
Scorpio Rising
11/3/2023, 10:02 am
»
Sunday All Purpose Organic Garden Nutrients
by lisawallace88 11/3/2023, 9:13 am
»
Mid-summer seed sowing, how do you do it?
by KiwiSFGnewbie 11/2/2023, 8:04 pm
»
N&C Midwest October 2023
by OhioGardener 11/1/2023, 8:49 am
»
Fall Tree Colors
by
Scorpio Rising
10/31/2023, 1:48 pm
»
Freeze Dried Food
by lisawallace88 10/30/2023, 11:28 am
Well, first of all, my SFG is doing really well.
but, I'm working on a business producing and marketing hydroponically/aquaponically grown organic vegetables, herbs and flowers.
Hydroponics is a technology for growing plants in nutrient solutions (water containing fertilizers, organic or otherwise) with or without the use of an artificial medium (sand, gravel, vermiculite, rockwool, perlite,peatmoss. coir, or sawdust) to provide mechanical support. It's highly productive, conservative of ...water and land, and protective of the environment.
Aquaponics fuses aquaculture with hydroponic vegetable, flower, and herb production.In an aquaponics, water from the fish tank circulates through a grow bed where the plants are grown without soil. bacteria convert fish waste into nutrients. The plants use these nutrients as their food supply.water is filtered by the plants in the grow beds, giving the fish clean water to live in.
we're calling the business "Hooked on Ponics"
I build a small test system, the technique I'm using is called nutrient film technology (NFT) in an NFT system the nutrient solution passes through a channel or pipe and the roots of the plants are suspended above the solution, the bottom half of the roots are sitting in the solution and the top half are exposed.
here is my test system, it was made with sections of vinyl fence post 4"x4". I added endcaps for the posts and installed bulkhead fittings for water flow.
the water/solution is pumped to the top growbed via an aquarium powerhead, it's sitting at a slight angle and water flows out of the top into the bottom growbed and back into the reservoir.
the plants sit in the net pots that hang inside the vinyl post and are held in place in the net pots with grow medium , in this case it will be expanded clay pellets. nutrient rich water flows just below the pots and plant roots grow down and hang into the solution.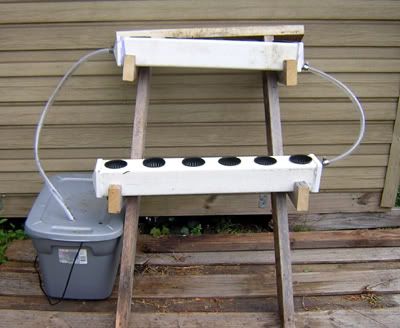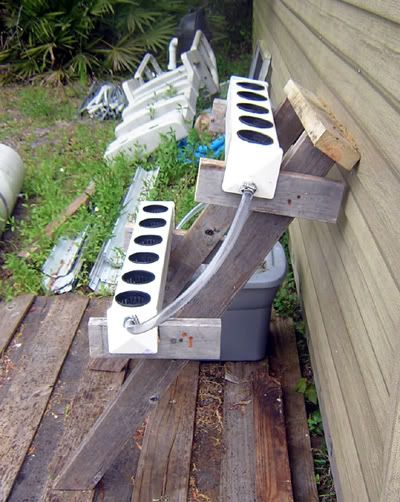 I had to seal a few spots in the tubing today but i'll be adding plants tomorrow. The experiment I did with the coffee can is doing really well, the growth rate was at least 2x as fast as the same plant grown in soil.
this will give you an idea of how the plants will sit in the growbeds
Very cool. So is this going to sit outside all the time? What are you going to grow in this test one? Finally there is going to be fish in the gray tote?
It's going to be an outdoor system, I have another tote that will house the electrical gear. I have a few vegetables started in rockwool starter cubes, tomatoes, cukes, peppers,squash, eggplant, swiss chard and basil.

I wont be adding fish to this system, I'm just trying to get past the learning curve before I add fish and with the heat around here the water in the small tote would got too hot for them.

I'm going to leak check the system tomorrow and then if everything works well I'll add a few plants. I'll keep you posted.
So you adding some nutrients to the water then? It would be nice if you could make some videos like youtube of this.
I just have a single part nutrient right now, I wanted to start simple but usually most nutrients are two part systems. It doesnt take much, 2tsp per gallon.

I also started a facebook page https://www.facebook.com/pages/Hooked-On-Ponics/111043395594483
Similar topics
---
Permissions in this forum:
You
cannot
reply to topics in this forum