Latest topics
»
Creating a Grid for Plastic Box
by
Cmonster90
Today at 5:02 pm
»
Hello from Central Maine-zone 4b/5
by
OhioGardener
Today at 4:47 pm
»
N&C Midwest: July 2021
by
Scorpio Rising
Today at 4:33 pm
»
What are you eating from your garden today?
by
markqz
Today at 2:22 pm
»
What Have You Picked From Your Garden Today
by
OhioGardener
Yesterday at 1:01 pm
»
Cucumbers
by
yolos
7/23/2021, 4:38 pm
»
Name that plant - the game
by
Scorpio Rising
7/23/2021, 12:14 am
»
JAM23 SFG in Illinois
by
sanderson
7/22/2021, 3:44 pm
»
Anyone grow okra?
by
sanderson
7/22/2021, 3:38 pm
»
New SGFer with nutrient deficient soil
by
Hmgentry
7/22/2021, 10:22 am
»
Greetings from Bangalore
by
OhioGardener
7/22/2021, 10:17 am
»
Potato growing
by
MrBooker
7/22/2021, 4:51 am
»
Happy Birthday!!
by
sanderson
7/22/2021, 1:53 am
»
Square Foot Gardening Official YouTube channel
by
SFGHQSTAFF
7/20/2021, 9:53 pm
»
OhioGardener SFG
by
OhioGardener
7/20/2021, 10:33 am
»
Kyoto Red Carrot
by
OhioGardener
7/20/2021, 9:04 am
»
Slug Control with Nematodes
by
OhioGardener
7/19/2021, 7:32 pm
»
Famous Gardening Quotes
by
OhioGardener
7/19/2021, 9:26 am
»
Compost fire?
by
OhioGardener
7/17/2021, 3:52 pm
»
Organic Home Growing Library
by
OhioGardener
7/17/2021, 10:45 am
»
thank you for all your help last year bkrieb
by
bkrieb
7/17/2021, 1:12 am
»
Message from Sanderson
by
Scorpio Rising
7/15/2021, 8:10 am
»
Good bug or bad bug on potato
by
Scorpio Rising
7/14/2021, 5:12 pm
»
Friday Rookie Topic: Carrots
by
OhioGardener
7/14/2021, 12:06 pm
»
Spoon Tomato
by
sanderson
7/14/2021, 11:59 am
»
Raising garlic
by
Missed-Em
7/14/2021, 11:23 am
»
Fishtell - 2021 SFG
by
Fishtell
7/13/2021, 1:59 pm
»
Walking stick kale
by
Yardslave
7/12/2021, 10:37 am
»
Starbucks for coffee grounds!
by
yolos
7/9/2021, 10:39 pm
»
Help, I killed my beans
by
Yardslave
7/9/2021, 6:54 pm
So here in Alabama and in our area where the builders took the great soil and left us with the hard uck! Well I planted two tomato plants 10 years ago and the sandy thick clay soil just turned my stomach to think of eating from that so pulled them up and in our small yard thought gardening would not be my thing.
Then my sister and brother in law heard about SFGing and when I saw theirs, my dreaming began.
The LAST week of May...late but feeling maybe there was time to jump in, I ordered the book on Kindle, headed to Home Depot and attempted my first woodworking project to build a SFG box...that was 2 p.m.ish and by bedtime there was...
The instructions were so easy AND I called our local nursery and they stock vermiculite, peat and various compost and list it on a sheet with prices for Mel's Mix (so that was not going to be a city wide hunt and gave me the jump start to try this!)
The whole family got interested and after staining the outside top and bottom of the box and putting it in place, we went to buy the ingredients and start playing in poo (never thought I would be so happy to buy and mix and grow in compost) I just did not THINK about how our food is grown...it was out of sight out of mind. I LOVE now watching the full process, learning and teaching our girls!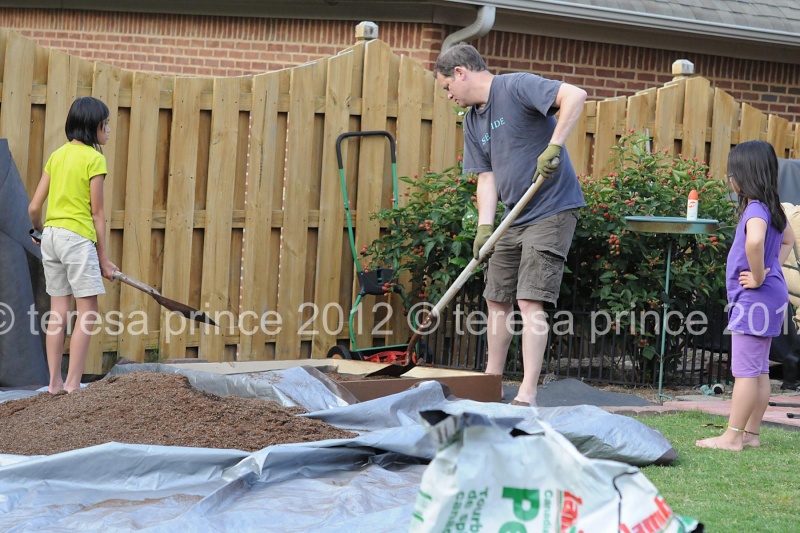 Transplants went in (all purchased were root bound probably for being late in the season buying them here) after chopping off root bound parts...

They looked SO flimsy and sad in the heat of the day but would perk back up after water
and a few squares of seed just to SEE
Building the box, got my woodworking juices excited and a potting bench seemed perfect, but our space was small and all I saw to buy were 2-3x too big. I decided to give it a try and the next day built...

Although building was seeming fun...I was chickening out on the trellis for some reason. I tried buying the pretty black option (I found one that had reach through size spacing and was 6' tall and 2' wide so two were perfect behind the box BUT they would NOT go into the ground deep or sturdy without bending and leaning. I headed back to Home Depot...their most clueless DIYer that just kept coming back with new projects and met Keith, in the electrical conduit department. I showed him the materials list and a few pictures from the book and $10 and an hour and a half later I left with the trellis support Mel recommends and am THRILLED!!! I did not buy the rounding tool, he did it right there in the store so I just had to bring that home and connect in the center.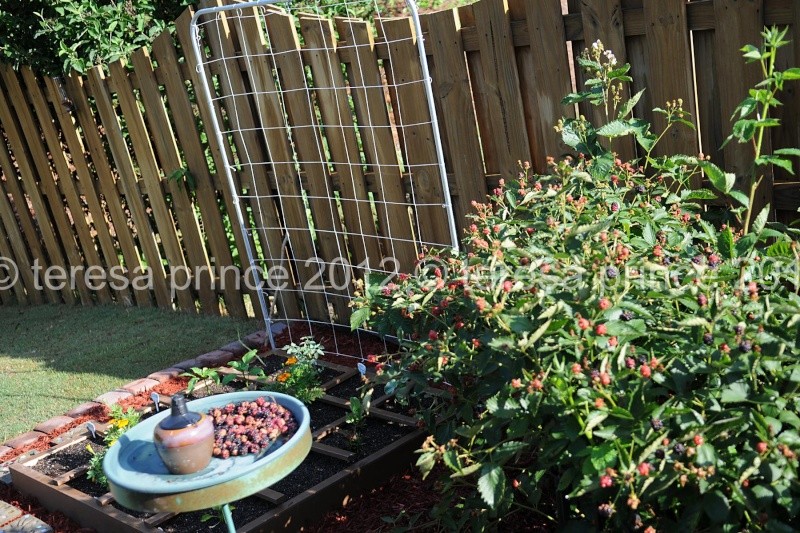 On May 27th seeds went in for 3 varieties of radish, 2 varieties green bean bushes, 9 chives, and spinach.
On May 28th we added a compost bin...
On May 31 we had radishes sprouting...

On June 1 our first bean broke ground...

June 3 I bought summer squash and learned it needed support too to not spread 4 feet around the front of the box on the ground...I did go for the smaller trellis option to try for this first year and added the squash on the south side of the box...our location gets FULL sun morning til late afternoon...

June 3 a chive broke ground...

I was bracing for all the growing and tracking and hoping all the pest stories I had heard would be easy on me month 1 of gardening EVER!
Well June 4, our first bean to break through the surface looked like...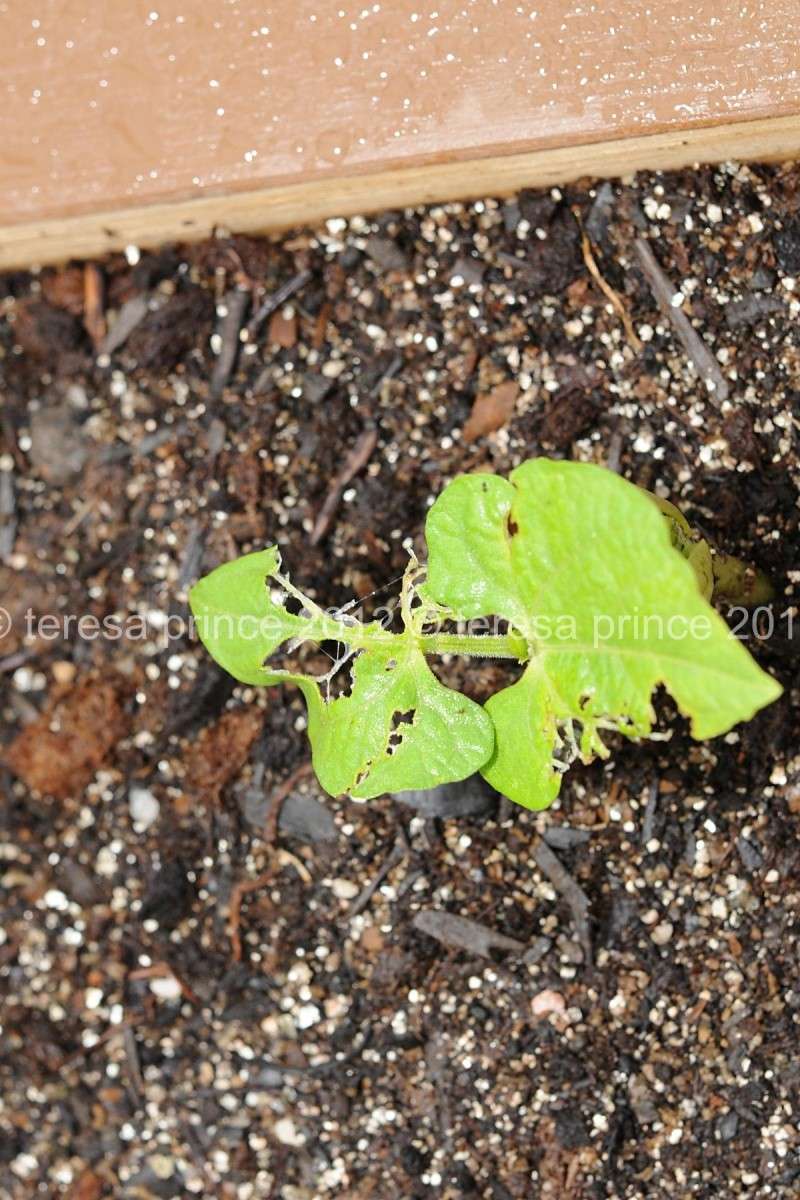 I have posted for input (HELP) on this and these next two critters here:
and I found this on the tomato plant I am trying to do sideways (like recommended in the book):

and these ALL in the soil:


So now that I have journalled through what I have documented so far...heading out to see what beauty and to-dos the garden holds for this day.
Any input on how you all keep track/journal, what I should be tracking...I am brand new...LOVE the book and am excited to learn and take any feedback that will help me grow in growing! Thanks so much

trprince




Posts

: 3


Join date

: 2012-06-04


Location

: Bham, AL



Welcome trprince
Way to get the family out and involved in the garden! Looks great

RoOsTeR




Posts

: 4316


Join date

: 2011-10-04


Location

: Colorado Front Range



@trprince.......Welcome to the forum. You are at the other end of the heat spectrum from me but there are preventives against bugs.
You look like you could use lightweight row cover against the pests. It still lets thru 90% of the sunlight and all the rain, but keeps out the pests. You have to be sure the ends are covered on the ground around the plants. Its called ReMay or Agribon.
These are my cauliflowers covered. In the north we have to cover against flea beetles that can destroy the leaves of plants.
I even lay it lightly over my strawberries after the berries begin to form, to keep the birds from getting most of my harvest. Just remember when using it, to uncover the plants when they are blossoming so the bees and wind can pollinate the flowers, then cover them back up after several days.
Its light enough to just lay over your plants or you can make tents or hoops with wire or wire clothes hangers if you prefer.
Your garden bed is lookin' terrific. I think you'll do well with it. It looks like a grand family affair. Enjoy.

quiltbea




Posts

: 4712


Join date

: 2010-03-21


Age

: 79


Location

: Southwestern Maine Zone 5A



Another type of trellis which is solid, is the concrete reinforcing wire that you can get in building supply stores. It comes in 4' wide by 9' lengths but can be cut with wire cutters to any length you like.
Here's a cuke tower I made with some of that reinforcing wire. You could keep it straight and brace it at the north side of a bed for a strong trellis. Just another idea for trellising.

quiltbea




Posts

: 4712


Join date

: 2010-03-21


Age

: 79


Location

: Southwestern Maine Zone 5A



You have made a wonderful start on your gardening. I love the pictures.

Kay
____________________________
A WEED IS A FLOWER GROWING IN THE WRONG PLACE
Elizabeth City, NC
Click for weather forecast

walshevak


Certified SFG Instructor




Posts

: 4372


Join date

: 2010-10-17


Age

: 78


Location

: wilmington, nc zone 8



What a fun photo journal - thanks so much for sharing!
My beans look exactly like yours. My first time growing them too, so I don't know what it's about. BUT... they grow quickly and the damage seems to have been limited to the first couple of leaves, and not all of the sprouts, so I'm currently not worried about it.
A Home Depot guy was willing to bend conduit for me at the store too, but he didn't do as nice of a job as yours. That's okay though; still sturdy and works great. I used the concrete re-mesh that Quiltbea mentioned.
to the forum! And
to your sister and BIL for introducing you to the method!
Your boxes look really good...thanks for the pics.

landarch




Posts

: 1152


Join date

: 2012-01-22


Location

: kansas city



Love your planting story and pixs! It is so much fun to watch them grow!
For bug control I have bridal veil netting over all of my beds right now. I will be removing some as the squashes and cucumbers start flowering and my peas and beans need trellising.
Happy gardening!
Evelyn from zone 4 Wyoming

efirvin




Posts

: 146


Join date

: 2012-01-08


Location

: Casper Wyoming



WOW! Awesome setup! Great start for someone starting late in the game! You sure had the desire to get going! LOVE all the pics! I hope you have a great harvest once it gets going! I am it was mentioned to use row covers. I had thought about using them.

michellentn




Posts

: 57


Join date

: 2012-04-24


Location

: Knoxville



What a great start, looks awesome! Keep us posted and good luck with the bugs!

cheyannarach




Posts

: 2037


Join date

: 2012-03-21


Location

: Custer, SD



Great story and pictures! I'd say you're a natural at documentation
I keep a journal that lists the varieties of seed (or plants), the date I planted, the date they sprouted (to remind me some take a long time), the date I harvested, and then add in things like how they did, how we liked them, were there problems - just free form thoughts. I'm a bit of an information junkie, but it helps me learn what works and what doesn't over time. I wish I would have added in information about weather this year because it's been so weird...but guess I can't track everything. I've also taken a lot of pictures to document the progress. You are very creative! Your space is beautiful! So cool to share with your kids.

darci.strutt




Posts

: 95


Join date

: 2012-05-01


Location

: Hudson, WI



---
Permissions in this forum:
You
cannot
reply to topics in this forum