I planted Sweet corn, Burpee Ambrosia hybrid: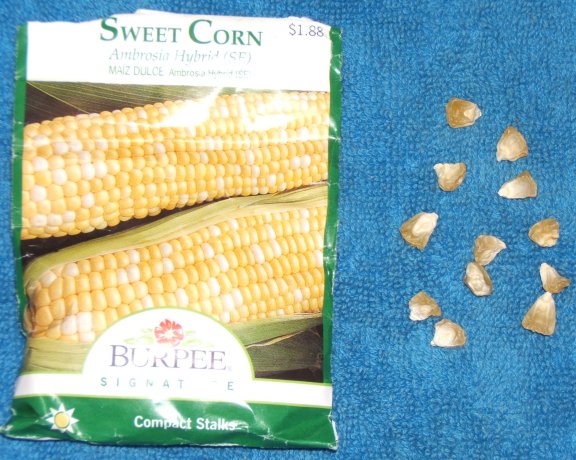 I was gone for 2 weeks and came home and it looks like this:
There is silk on a couple of the side stalks but it does not feel like it is developing corn.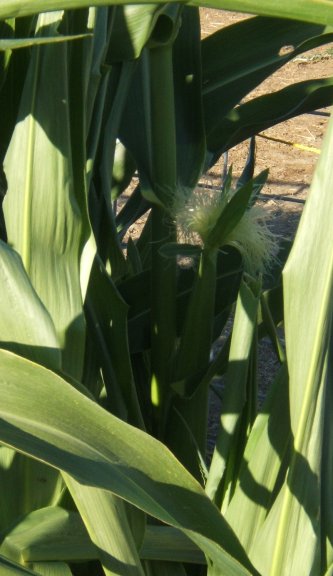 The seed head look like something other than corn to me. Any ideas on what it is? Or is this normal? It is about 4 ft tall.

Lindacol




Posts

: 777


Join date

: 2011-01-23


Location

: Bloomington, CA



BURPEE AMBROSIA SWEET CORN
GROW SWEET CORN IN THE BACKYARD GARDEN
Burpee described this particular corn as 6 - 7 feet tall, with 8 inch ears, matures in 75 days.
Lindacol, the tassel on top looks like mine did last year. The tassel has the pollen.
The little corn ears on the side of the stalk are supposed to have the silk hanging out to catch the pollen. The corn kernels will not develop until the silks are pollinated by the wind dropping the pollen from the tassels to the silks. The ears begin to grow bigger after the silk is pollinated.
Corn takes about three weeks to mature after the silk starts to show up.

Furbalsmom




Posts

: 3141


Join date

: 2010-06-10


Age

: 72


Location

: Coastal Oregon, Zone 9a, Heat Zone 2 :(



I have been hand-pollinating my corn. This is apparently a very short variety(4-5 ft), and with the wind blowing it over several times some of the new ears are within bunny reach - bunny keeps eating the silk! If they mature, I will have a nice little crop, but I definitely will have to race Bugs & Babs for it!

Goosegirl




Posts

: 3433


Join date

: 2011-02-16


Age

: 54


Location

: Zone 4A - NE SD



Can individual corn plants self-pollinate without causing goofy inbreeding type ears? Or, do you have to shake one plant and deliver to a neighboring plant?

BackyardBirdGardner




Posts

: 2727


Join date

: 2010-12-25


Age

: 46


Location

: St. Louis, MO



yes corn can self pollinate without causing goofy ears

jcpen




Posts

: 16


Join date

: 2011-08-04


Location

: mid atlantic



Thanks everyone. I was thinkiing the tassles looked like some kind of seed. I wasn't thinking the pollen would be so obvious and dry looking. Hopefully I will get a few ears of corn. These were seeded late and only about 12-16 plants as an experiment and to fill a space left when I pulled the onions. After picking any ears the whole plants will feed the goats.

Lindacol




Posts

: 777


Join date

: 2011-01-23


Location

: Bloomington, CA




---
Permissions in this forum:
You
cannot
reply to topics in this forum