Latest topics
»
Greenbeards Grove 2018
by
countrynaturals
Today at 1:12 pm
»
Butterfly Junction
by
countrynaturals
Today at 1:03 pm
»
Powdery Mildew already striking
by
has55
Today at 12:44 pm
»
Help! Onion Maggots!
by
has55
Today at 12:33 pm
»
Just Completed my Garden.....What Should I Plant NOW!
by
ispinwool
Today at 11:09 am
»
Fourth Year SFG in Canada
by
trolleydriver
Yesterday at 5:41 pm
»
Hi from Buffalo
by
ispinwool
Yesterday at 2:20 pm
»
How's the Weather Where You're At?
by
hammock gal
Yesterday at 2:12 pm
»
Hi from Burrrrlington Vermont!
by
ispinwool
Yesterday at 2:07 pm
»
Lurking newby
by
Windsor.Parker
Yesterday at 12:27 pm
»
Any tips growing with Jiffy Pots
by
countrynaturals
Yesterday at 11:11 am
»
Volunteer Mushroom
by
Windsor.Parker
Yesterday at 9:16 am
»
Compost pile in Schwenksville PA.
by
AtlantaMarie
Yesterday at 6:57 am
»
N&C Midwest - MAY! Spring has sprung!
by
DorothyG
Yesterday at 12:01 am
»
2018 SFG in Brooks, GA
by
yolos
5/20/2018, 10:16 pm
»
Tomato Tuesday 2018
by
hammock gal
5/20/2018, 10:51 am
»
Potato growing
by
Scorpio Rising
5/20/2018, 9:49 am
»
Situation in Hawaii
by
AtlantaMarie
5/20/2018, 7:40 am
»
Pests...How to keep at bay
by
jimmy cee
5/19/2018, 10:41 pm
»
On the Road
by
sanderson
5/19/2018, 1:09 pm
»
New England May 2018
by
sanderson
5/19/2018, 12:17 am
»
Mr. Booker's Garden -2018
by
sanderson
5/18/2018, 12:17 pm
»
CANADIAN REGION: What are you doing in MaY 2018
by
Kelejan
5/17/2018, 10:30 pm
»
Aero Garden for starting seeds?
by
Windsor.Parker
5/17/2018, 3:44 pm
»
Potatoes: Yes or No?
by
jimmy cee
5/16/2018, 11:38 pm
»
Interplanting Beans/Cucumbers to repel beetles
by
Roseinarosecity
5/16/2018, 1:51 pm
»
Happy Birthday!!
by
sanderson
5/16/2018, 9:55 am
»
Sanderson's Urban SFG in Fresno, California
by
sanderson
5/15/2018, 2:56 pm
»
Texas Dream garden 2017
by
has55
5/15/2018, 12:14 pm
»
Happy Mother's Day!
by
countrynaturals
5/14/2018, 2:55 pm

I just found out that the Romas I am going to plant are determinate...(I am new to gardening...please don't laugh at me!

)
I had intended to grow my tomatoes up a trellis and have my garden plan all done, but now I think I need a new plan. I know I could plant them in containers but I'd actually like to try to keep everything in my boxes if possible. How many squares will a roma need? I had intended to plant peppers next to my tomatoes, but will that be too crowded?
I want to get a lot of tomatoes--intending to make salsa and marinara sauce. I don't know much about the different varieties of tomatoes...any recommendations (other than Roma) that are good for salsa and sauce?
My other question is... I grew a different type of tomato plant in my yard last year (didn't have a SFG) and it was also a determinate. The bush was huge and slightly unmanageable. I just read that you aren't supposed to take off the suckers on a bush, but is there some other way these plants can be pruned to make them less messy and/or increase the production?
Thanks for any help you can give me! :scratch:



Posts

: 37


Join date

: 2011-04-11


Location

: Riverton, Utah



My husband only grows romas - gotta have that sauce! We are converting our row garden to a SFG this year -but we are leaving the tomatoes in a row. I'm not sure what to tell you as far as varieties and SFG tomatoes but I can tell you our experiences with the suckers.

The first year we didn't remove the suckers. We ended up with a lot of smaller sized tomatoes. It was annoying trying to process them. The following year I decided I was pruning the darn things! I pinched the suckers out. The result was less tomatoes but much bigger than the 'grape tomatoe' size we had before. We had to be diligent with the suckers though. If you wait more than a week, there are tons of them. When I waited too long I took out my hand pruners and cut them back. We had no problems. We grew 10 plants and canned at least 24 jars of stewed tomatoes.



Posts

: 18


Join date

: 2011-04-04


Location

: Syracuse, NY Zone 5



The only determinates I've grown so far are Oregon Spring and I planted 3 of them across in a 4-square length, but just one width wide.
They did fine and I used those cheap tomato cages you can get at the Family dollar store for a couple of bucks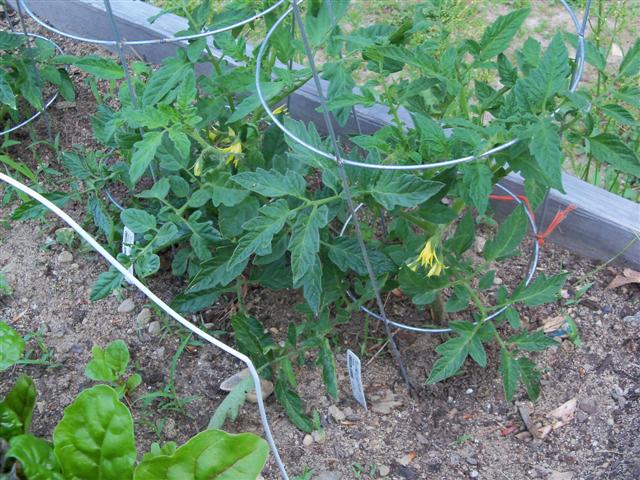 Here they are starting to blossom with chard in front.
In the squares in front of them I planted Swiss chard and carrots so they didn't compete with the tomatoes as they grew taller. I didn't have a problem with the spacing and everything grew and harvested just fine but the toms only grew about 3 1/2 feet tall.
I don't know how that would work if your deters are much taller than that.



Posts

: 4712


Join date

: 2010-03-21


Age

: 76


Location

: Southwestern Maine Zone 5A



I'm growing Rio Grande paste tomatoes this year that are determinates. I have 4 in cages in a 2x8 bed and I think next time I will squeeze one more into that space. They are just coming ripe and I love how big they are! I haven't done any pruning except recently I cleaned up yucky branches/leaves at the bottom when I put down mulch.



Posts

: 842


Join date

: 2010-04-09


Age

: 42


Location

: southern tip of Texas zone 9



I have been pruning the leaves (not suckers) growing beneath the fruit on both bush and vining types and it is working well. I don't let any leaves touch the ground on any of my plants, old habits die hard. You don't have to take the whole leaf off either just snip the tips if crowding becomes a problem. They say "peppers like to rub shoulders" so perhaps they will like to rub shoulders with the toms too.



Posts

: 1697


Join date

: 2011-04-01


Location

: zone 9a St.Johns county FL



All I grow is romas and in large quantities and they work perfect for my boxes. I put mine on the outer edge of my box. My box is 7 feet across so I can plant 4 plants per edge (so about 1 1/2 squares). It also takes up less space when planted in the outer squares because the plants can extend past the edge of the bed. If you look at my avatar you can see the tomato plants on the right side of the box. I have never taken suckers off and get huge harvests for canning and salsa. I do take off the very bottom branches so they don't touch the soil.

Good Luck!



Posts

: 420


Join date

: 2010-03-18


Location

: MN Zone 4




---
Permissions in this forum:
You
cannot
reply to topics in this forum