Latest topics
»
SFG Troubleshooting
by
sanderson
Today at 12:53 pm
»
Happy Birthday!!
by
sanderson
Today at 12:17 pm
»
I love gardening!
by
sanderson
Today at 12:11 pm
»
Hello from Gilbert. AZ
by
sanderson
Today at 11:53 am
»
CANADIAN REGION: what are you doing in August 2019
by
Kelejan
Today at 11:26 am
»
new to Louisville Ky
by
sanderson
Today at 11:18 am
»
Fifth Year SFG in Canada
by
sanderson
Today at 11:16 am
»
Cover Crops??
by
OhioGardener
Today at 9:42 am
»
Famous Gardening Quotes
by
Dan in Ct
Today at 7:20 am
»
What are you eating from your garden today?
by
countrynaturals
Today at 12:07 am
»
Cape gooseberry
by
OhioGardener
Yesterday at 6:46 pm
»
August Avatar: Beat The Heat!
by
countrynaturals
Yesterday at 11:52 am
»
Rosemary -- What do you do with it?
by
LilBittyBean
Yesterday at 11:49 am
»
N&C Midwest: August 2019
by
OhioGardener
Yesterday at 11:35 am
»
New England August, 2019
by
CapeCoddess
Yesterday at 8:28 am
»
How's the Weather Where You're At?
by
OhioGardener
Yesterday at 8:20 am
»
LED grow lights......any advice?
by
RJARPCGP
8/20/2019, 3:33 pm
»
Update on Marie's mom
by
AtlantaMarie
8/20/2019, 9:48 am
»
SFG FOUNDATION NEWSLETTER - AUGUST 2019
by
sfg4uKim
8/20/2019, 9:19 am
»
Butterfly Junction
by
countrynaturals
8/20/2019, 9:02 am
»
Identification needed
by
Scorpio Rising
8/18/2019, 11:40 pm
»
Faith-based Community Garden
by
johnbmarek
8/17/2019, 10:40 pm
»
First Timer. Zone 5b 8x8 SFG
by
crankyoldman
8/17/2019, 12:17 pm
»
Cheerleaders needed, please. This is daunting.
by
countrynaturals
8/17/2019, 10:52 am
»
Anyone Seeing Ads?
by
countrynaturals
8/17/2019, 10:45 am
»
Yellowstriped Armyworm
by
sanderson
8/17/2019, 3:12 am
»
Chlorine in the garden
by
Scorpio Rising
8/16/2019, 11:58 pm
»
2018/2019 SFG in Brooks, GA
by
trolleydriver
8/15/2019, 8:55 pm
»
Hello UK
by
Kelejan
8/14/2019, 4:09 am
»
Gardener's Elbow...
by
Kelejan
8/14/2019, 4:07 am

Started seeds this weekend. Put several types of sweet pepper, 2 kinds of cabbage, broccoli, and celery into soil blocks and small seed trays yesterday (March 13, 2011).
I liked the look of the soil blocks and the idea of using the limited space of my seed starting dome and heating pad. Since I am frugal and thought that the cost to purchase block making tools (not available in Canada and seemed pricey to buy&ship from US), I tried making my own. I made a small one from a plastic 35mm film canister and a medium sized one from a small bottle of Clamato Rimming spice. I made the "plungers" from long bolts, nuts, and washers. They work but it takes a while to make a bunch of soil blocks as I can only make one at a time. Not as efficient as the ones you buy that make 20 little blocks or 4 medium sized blocks -- and I can't insert the small block into the medium block. The film cannister makes 1" blocks and the medium one 2" blocks. I was cautioned by the local nursery staff not to pack the soil blocks too much as seed andnew roots need lots are air to grow well.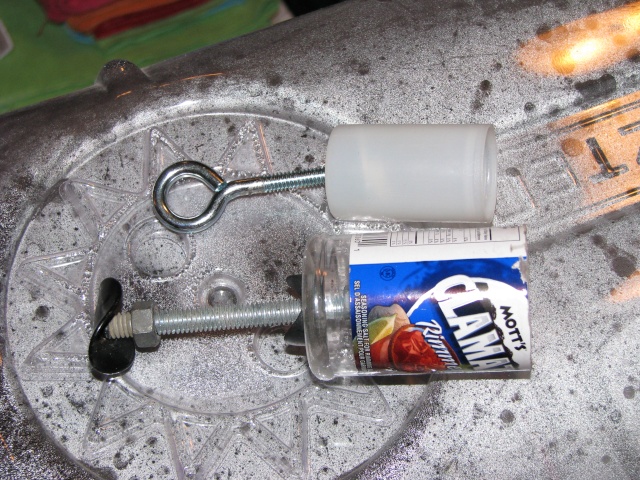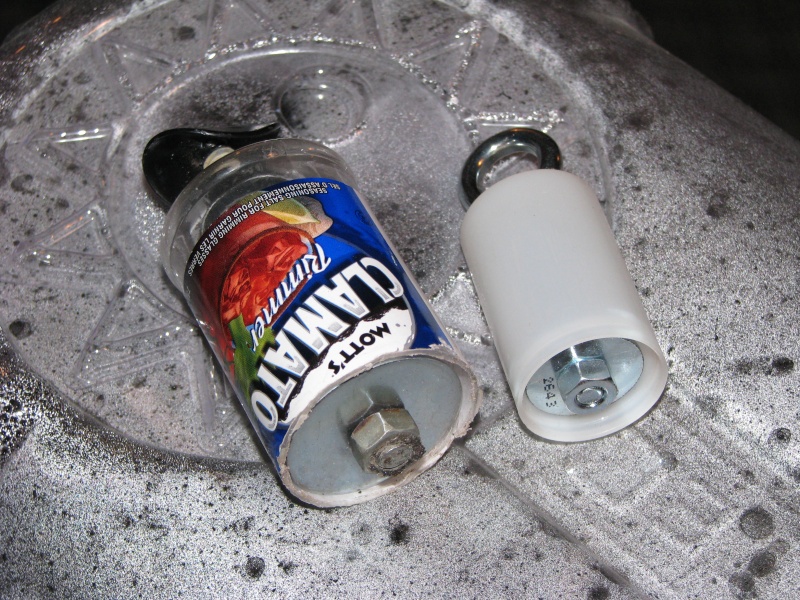 Since I couldn't buy seed block makers here, the nursery suggested I try a large plastic seed starting tray with 1/2" cells (they sold it to me for $2). The tray was too large for my seed starting set up and it would be difficult to track several different kinds of seed with different germination rates in one big tray, so I cut the tray into a couple dozen smaller plastic trays of 12 and 16 cells. I can now fit 16 seeds into 4"x4" of space. Much more efficient use of space than using 2" jiffy pots. Once seeds germinate and start roots I can pop them out of the smaller seed trays and into a jiffy pot or a Tim Hortons coffee cup for under the growing lights (where there is more room). The bottom of each cell is open so water can soak in or drain and I can poke the soil plugs out easily with my finger.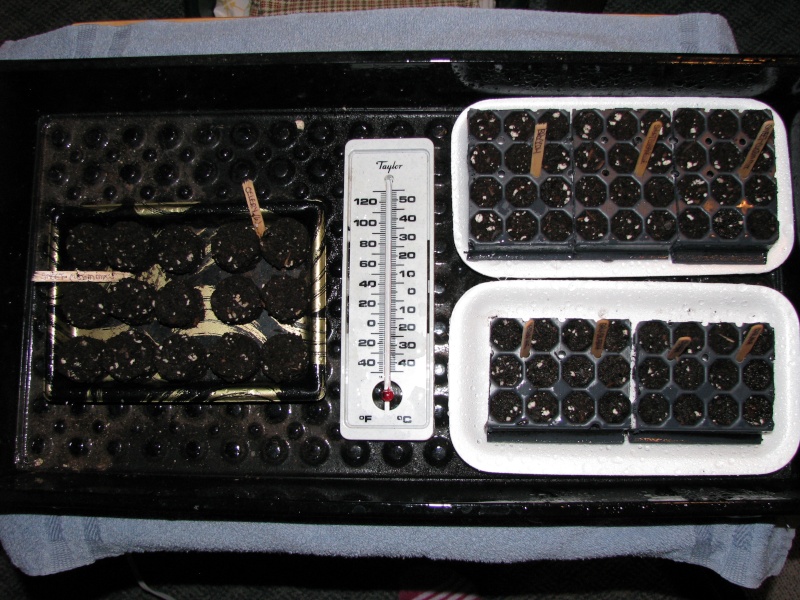 I'll let you know how well these trays work once seeds germinate and are ready for transplanting into pots.
Still lots of snow here right now but things are gradually warming up this week.
Here are some photos of my backyard and SFGs taken a couple weekends ago (March 5, 2011).
Received another 2 ft overnight and had just finished blowing snow when these photos were taken.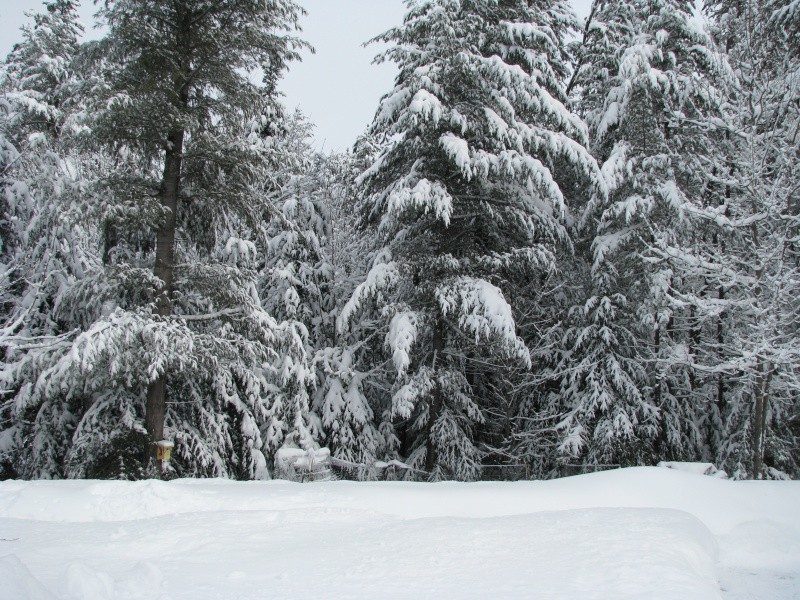 The SFG is down the yard in front of the trees so they are only under a couple feet of snow; you can just see the tops of the trellis' in photo #2...the trellis' are 5 and 6 ft tall.
Side shot from middle yard trail....SFG are under less snow than the rest of the yard. The deer fence is holding some snow making it hard to see the trellis'. We have a lot of trees and I had to carefully choose the sunniest spot. This location is facing southeast and gets sun most of the day during the summer and is sheltered from the wind.
Our dog, Bronx, is 15 lbs and the size of a large cat so you can see how deep the snow is (and we got it easy this winter)....he runs through the snowy hallway trails we snowblow for him. The trail next to the house where Bronx is in this photo is a bit shallower than the middle of the yard.
Here is same spot and view as photo #2 today (March 15, 2011) taken from our bedroom window.
Not sure if my SFGs will be snow free enough to plant Carrots on April 15 but we'll have to wait see what Mother Nature has planned this spring. They were snowfree by the end of March last year, which is very unusual here. My gardens are usually snowfree by mid-April but the soil is often still frozen....may need to get a black tarp to speed things up?
Still have a lot of snow but I can see the trellis' better....and it is sunny!


OH MY GOODNESS!!! THAT is a lot of snow bullfrogebabe!
You are quite handy woman...good job on the home made soil block makers! Awesome!






Posts

: 2260


Join date

: 2010-04-25


Age

: 41


Location

: Post Falls Idaho and LOVING it



Wow bullfrogbabe!!! Great job making your own soil blockers. I definitely am NOT that handy. If I was, I may have built something similar. The only reason I was able to afford purchasing the soil blockers was because my Grandmother gave me money for Christmas and made me promise to spend it on something for myself. Most women would get themselves a spa day or something. Not me! I buy soil blockers! LOL!
You definitely get much more snow than I do! My father has a house up in Midland. I haven't been up there in a couple of months, so I don't know how much snow they got this winter, but I imagine it's pretty close to what you have.
I love the paths for the dog! So cute!



Posts

: 710


Join date

: 2010-03-21


Age

: 46


Location

: Aurora, Ontario, Zone 5a



UGH! Your house looks like mine did when I left for vacation! (zone 4b) I didn't start any seeds because I knew I would be gone for a while and having the housesitter care for seedlings along with the house plants and 2 VERY high maintenance cats seemed cruel. I will be home soon and hopefully some of the snow will have melted to put me in a better gardening mood......

TC



Posts

: 3433


Join date

: 2011-02-16


Age

: 54


Location

: Zone 4A - NE SD



Seed Starting Update#1 -- Day 3 (March 16/11)
Just looked in on my seeds that were started 3 days ago on Sun March 13......all 12 broccoli and 6/12 cabbage seeds have germinated in their little trays. There were 4 broccoli up already yesterday on day 2. No sign of peppers or celery yet.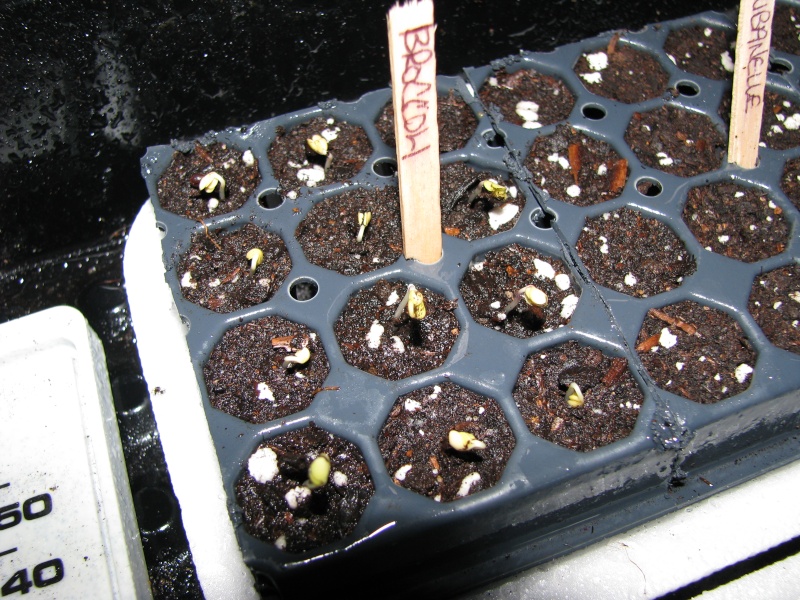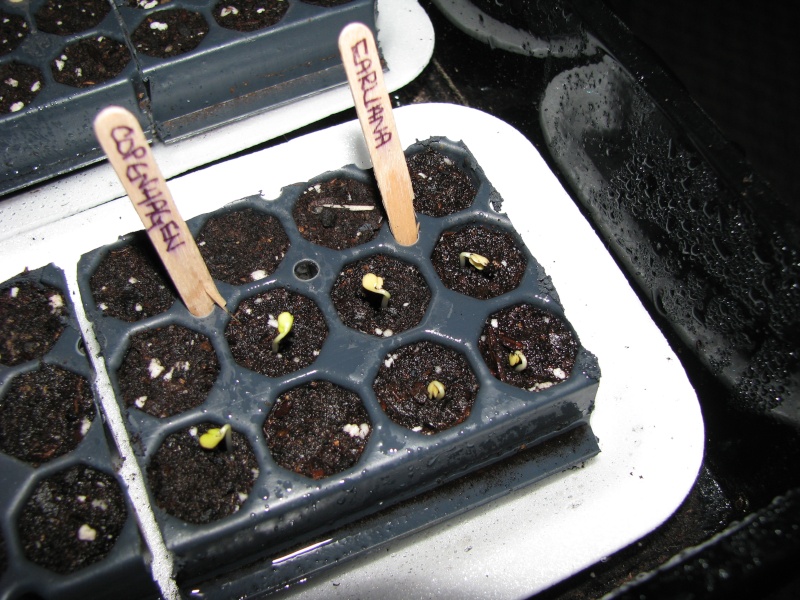 The thermometer shows 78F/26C so the temperature is optimal for high germination rates. My old heating pad is on the low setting. I decided to be frugal about heating mat too, so I stole my hubby's old heating pad and bought him a new one with a timer (cheaper than buying a gardeners heating pad! WIN-WIN).
Heating pad and dome combo are fabulously quick! I hadn't thought about using this old heating pad last year when I started seeds in March, so it took a bit longer although when I look back at my notes broccoli was a keen grower last year as it started germinating in 2-3 days but there were a few stragglers that took up to a week. This year took only 3 days for 100%. Not bad for old broccoli seed bought in 2007 at the dollar store at 3 packs/$1! I haven't tried cabbage before, but a quick look at the germination chart in Mel's book indicates it should be similar to broccoli so the rest should be up over the next couple days.
Looks like I will need to get my growing lights ready to go, as my new little babies will need some light!



Posts

: 92


Join date

: 2010-07-20


Location

: Alberta, Canada



Seed Starting Update # 2
-- April 5/11 Day 23 since first batch of seeds were started on March 13/11
The outside snow situation is improving.
It has been fairly mild with rain, fog, and some minor snow events over the last week but the snow is melting! The snow has receded enough to expose some soil but there is still a ways to go.
Not sure if the soil will be thawed enough to participate in SFG carrot day on April 15 but a lot of melting can happen in a week, right? We'll see, it is a pretty optimistic thought as April 15 is still 6 weeks before the last frost and 3 weeks sooner than we're supposed to start carrots here in Canadian Growing Zone 4a.
All the seeds I started on March 13/11 are doing well.
All 12/12 green broccoli seeds germinated by March 16 (within 3 days).
The cabbage -- Copenhagen 6/6 and Earliana 4/6 by March 18 (within 5 days).
Here is what the broccoli and cabbage looked like on March 21/11 (day 8

):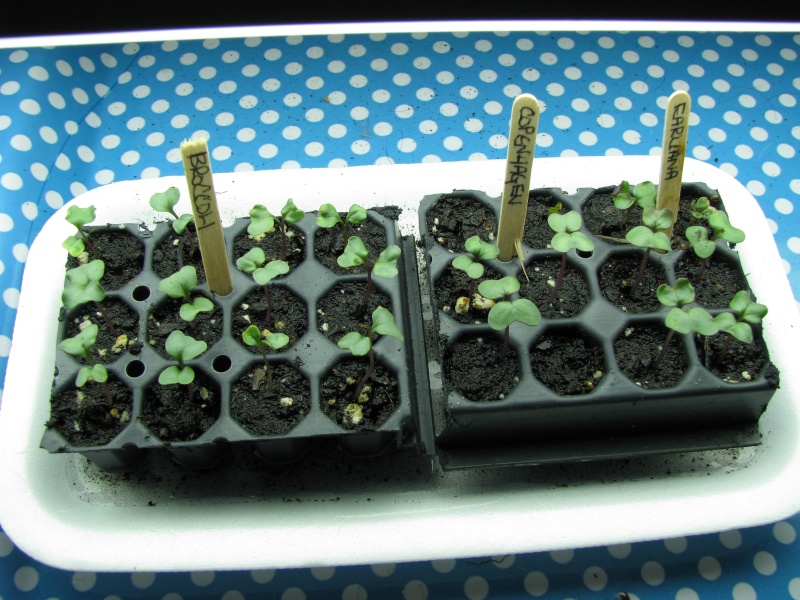 Here is what the broccoli and cabbage looked like on April 3/11 (day 21):
The pepper seeds have been much slower and are showing lower germination rates -- sweet pepper mix 9/20, keystone giant 5/6, early california 2/6, and cubanelle 5/12 as of April 3 (day 21). Most of the pepper seeds (17) that have germinated so far came up by March 25, but (4) others have followed since and keep surprising me when I think they're done!
Here are some of the pepper sets as of April 3 (day 21):
Here are the sweet assorted sweet pepper seedlings that were planted in the soil blocks I made in my homemade soil blocker. 5/9 seeds planted in soil blocks have germinated so far / germination rate was not much better than the seed trays, so I am not sure if they are worth the extra effort. Plus they are slowly falling apart, each time they are watered.
I also started celery in some soil blocks, so far 2/6 have germinated. They are pretty small and hard to see so I didn't even try to photograph them.
On March 26/11 -- second round of seeds was started and placed into my domed tray and placed on the heating pad. I found a dwarf variety of broccoli -- Munchkin (12 seeds planted into a seed tray) and also started cauliflower (12 seeds planted into a seed tray); a flat of bunch onions and a flat of white onions.
As of Sunday (April 3 -- 8 days after planting) the bunch onions have germinated really well and have been moved under the lights. The white onion seeds are on the old side and none of them have sprouted as of today, so I think it's time to toss the rest of this package.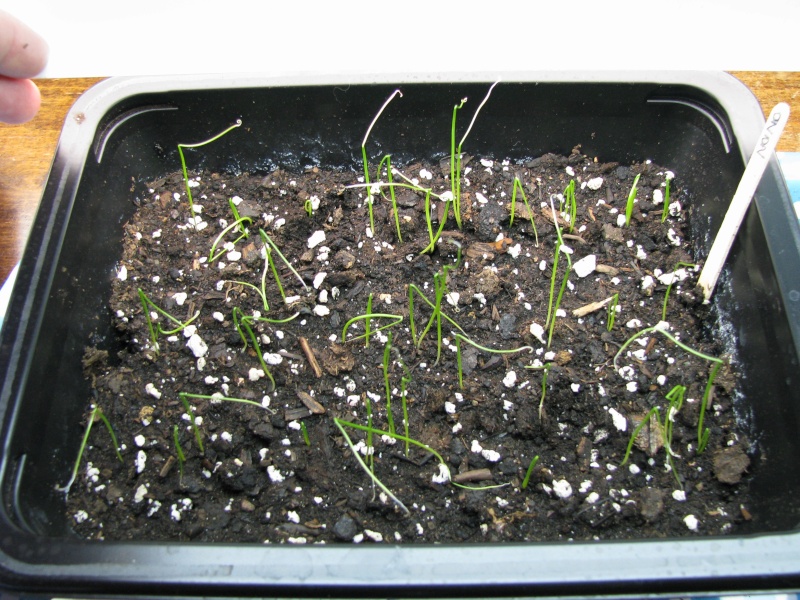 The munchkin broccoli 9/12 and cauliflower 9/12 seeds germinated by March 31 (within 5 days of planting). Here they are 8 days after planting them: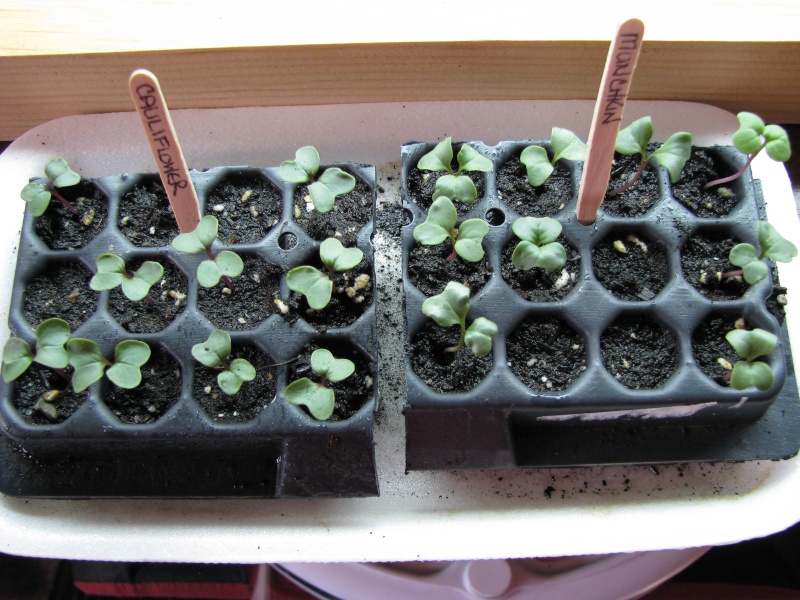 I am planning to start lettuce and tomatoes shortly.
Also almost time to transplant the first batch of seedlings into larger pots or Tim Hortons cups.
So many babies in your nursery. They are doing well. Hope your ground starts thawing soon.

Very Nice!



Posts

: 3141


Join date

: 2010-06-10


Age

: 72


Location

: Coastal Oregon, Zone 9a, Heat Zone 2 :(




---
Permissions in this forum:
You
cannot
reply to topics in this forum