Latest topics
»
New England August, 2019
by
RJARPCGP
Today at 12:50 pm
»
N&C Midwest: August 2019
by
Scorpio Rising
Yesterday at 11:44 pm
»
Identification needed
by
Scorpio Rising
Yesterday at 11:40 pm
»
Rosemary -- What do you do with it?
by
Scorpio Rising
Yesterday at 11:39 pm
»
I love gardening!
by
Scorpio Rising
Yesterday at 11:35 pm
»
Hello from Gilbert. AZ
by
LilBittyBean
Yesterday at 10:30 am
»
Update on Marie's mom
by
mollyhespra
Yesterday at 9:51 am
»
Faith-based Community Garden
by
johnbmarek
8/17/2019, 10:40 pm
»
How's the Weather Where You're At?
by
RJARPCGP
8/17/2019, 8:54 pm
»
First Timer. Zone 5b 8x8 SFG
by
crankyoldman
8/17/2019, 12:17 pm
»
Cheerleaders needed, please. This is daunting.
by
countrynaturals
8/17/2019, 10:52 am
»
Anyone Seeing Ads?
by
countrynaturals
8/17/2019, 10:45 am
»
Butterfly Junction
by
countrynaturals
8/17/2019, 10:40 am
»
What are you eating from your garden today?
by
countrynaturals
8/17/2019, 9:26 am
»
Happy Birthday!!
by
AtlantaMarie
8/17/2019, 6:55 am
»
Yellowstriped Armyworm
by
sanderson
8/17/2019, 3:12 am
»
August Avatar: Beat The Heat!
by
sanderson
8/17/2019, 2:34 am
»
Chlorine in the garden
by
Scorpio Rising
8/16/2019, 11:58 pm
»
2018/2019 SFG in Brooks, GA
by
trolleydriver
8/15/2019, 8:55 pm
»
new to Louisville Ky
by
AtlantaMarie
8/15/2019, 10:53 am
»
Fifth Year SFG in Canada
by
trolleydriver
8/14/2019, 11:04 am
»
Hello UK
by
Kelejan
8/14/2019, 4:09 am
»
Gardener's Elbow...
by
Kelejan
8/14/2019, 4:07 am
»
Pickling Cucumbers
by
Scorpio Rising
8/13/2019, 9:20 pm
»
CANADIAN REGION: what are you doing in August 2019
by
Scorpio Rising
8/13/2019, 8:32 pm
»
Comfrey
by
OhioGardener
8/12/2019, 9:12 pm
»
Hello from New Orleans
by
sanderson
8/12/2019, 1:08 pm
»
Mosquitoes - Lavender and Chamomile Essential Oils
by
sanderson
8/12/2019, 1:47 am
»
The National Heirloom Exposition - Sept in CA
by
Roseinarosecity
8/11/2019, 10:29 pm
»
has55's R & D Journey
by
has55
8/11/2019, 5:05 pm

Hoop houses or cold frames!
I just put mine together buy I don't know if it's right. I used 1/2 inch CPVC and shoved it in the ground then took 4 mil clear plastic and draped it over hoops and then covered the sides. It is just held on with little clippy-clampy things.

I checked and I don't have a picture of my hoop houses. I used 3/4" schedule 40 PVC and screwed copper plumbing brackets ($1.97 for 12 at HD) on the outside of the beds. The 10' PVC slips down into the brackets and touches the ground.
I used 3 mil plastic draped across the beds and held down with 3' 2x6's with cement blocks on them. The ends are simply pulled tight and tied with twine. These are very sturdy and have held up to 67 mph gorge winds.
The PVC is easily removed for summer or used with shade cover draped over them.
Tip: If it is freezing make sure that your vegies are not touching the plastic at the edges as they will probably freeze.
There were some great pictures that Boffer had posted last year but I cannot locate them.
Something is working, the Alaska peas, spinach and turnips have all sprouted.



Posts

: 304


Join date

: 2010-05-26


Location

: East County Portland, OR



Ummmmmmmmmmm.......I'll show you mine if you show me yours.
Gwynn
Regional Hosts




Posts

: 1156


Join date

: 2010-08-12


Age

: 68


Location

: Canada 3b



Hehe!
I'm just wondering how well it will hold up.
Aub, I am sure what you have will help warm the bed, but if you are concerned about wind, you might want to consider either the brackets suggested by happycamper, or perhaps some rebar, cut about 18 - 24 inches long and set 6 - 12 inches into the ground., then set the hoops over the rebar, that will help stabilize them.
We did not use the rebar, but purchased some 1 1/2 in PVC cut into 24 inch lengths with the end cut into a V shape, pounded them about 12 inches into the ground and inserted the 1/2 iinch pipe into the 1 1/2 inch pieces.
When I set up my raised bed garden with amended soil (before my new Table Tops with Mel's Mix) we used the 20 ft lengths of pvc pipe so I could place deer netting around the garden, I ended up with hoops about 8 feet high, but it is the same concept you used.
We found there really needed to be a bar across the top to prevent the hoops from tipping. We used PVC clips that we purchased at the same store where we bought the pipes to hold the crosbars, Mel's All New Square Foot Gardening book, suggests drilling the end of the crossbar and the top of the hoop and placing a bolt or zip tie to prevent them coming apart.
We also included an upright at each end of the 7 X 27 foot garden area, but I don't think the upright is necessary for the 10 foot long hoops you are using over your garden. We used our uprights as a gate into the garden.
Those clamps look like they will do the job. I believe that Quiltbea used 1 inch binder clips to hold the plastic onto her A-Frame cover.
Hope this helps.



Posts

: 3141


Join date

: 2010-06-10


Age

: 72


Location

: Coastal Oregon, Zone 9a, Heat Zone 2 :(






Posts

: 304


Join date

: 2010-05-26


Location

: East County Portland, OR



Binder clips! What a great idea!

I would never have thought to use those. And they are small and black and the kids won't be tempted to run off with them. I'm going to switch my neon clamps to binder clips.
My hoop house is an A-frame. Does this qualify?
I made it very simply. It had to be simple since I'm a grandmother whose aging rapidly and have back problems.
Supply list:
Four 1 X 2" poles 6" long
One 1 x 2" pole 4' long
Wire to wire ridgepole to top of 'tent'
About 5 yards of heavy plastic vinyl
(I got mine from the fabric Dept in Walmart but all fabric stores carry it)
A couple dozen long tacks to tack plastic triangle sides in place.
9 large binder clips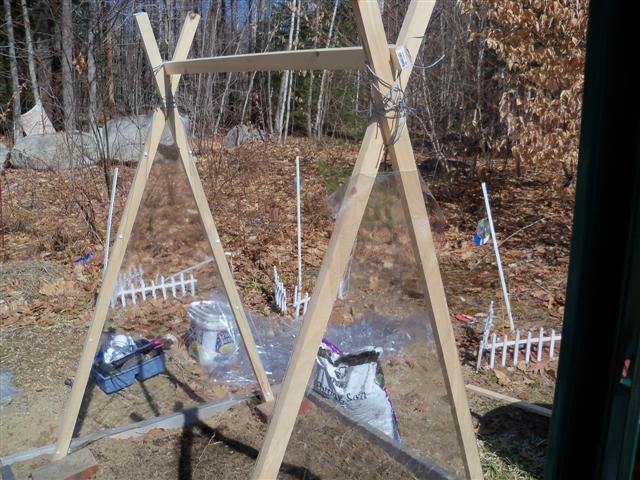 Bury the 6' poles into the four corners of a 4' x 4' raised bed. Wire the tops of the pole pairs together on each side.
Place the ridgepole across the top. Wire that into place.
Cut large triangles out of the plastic to fit the sides.
Tack them in place. Leave enough at the top 'v' to tack shut during cold nites or to lower for air circulation.
Lay another piece of heavy plastic over the ridgepole so that it extends right down to the ground on both sides to help retain heat.
With the large binder slips, clip the plastic to the slanting poles from top to bottom to hold it shut. There should be overlap of plastic on the sides and bottoms to retain heat.
When you need to work inside, just lift the side flaps and with two binder clips, clip the plastic out of your way.
Plant your crops.
I enjoyed some early harvests but its also a good place to harden off seedlings or to start lettuces to transplant into the garden later. I grew a Matt's Wild Cherry tomato inside all season and had tomatoes from it into late Oct.
If I can make it, anyone can.
You can also extend your harvest into late fall and early winter with this.
Last edited by quiltbea on 2/18/2011, 10:01 pm; edited 1 time in total (Reason for editing : spelling.)



Posts

: 4712


Join date

: 2010-03-21


Age

: 77


Location

: Southwestern Maine Zone 5A



http://squarefoot.forumotion.com/t5236-box-one-is-filled-with-mm
Towards the bottom of the thread.
I plan to cut a foot or so off each length, though, because my plastic isn't wide enough to overlap the ground on both sides. Also, the lower I go, maybe the more heat retention I will get......by keeping the warmest air in the HH closest to the plants.
I have a pvc length spaced every two feet, for added stability. I also have a ridge bar lashed in with nylon string for the same reason. It's pretty sturdy. I also opted for 6mm plastic......that helps noticeably on breezy days. The original 3.5mm plastic will be used underneath for a couple of floating row covers....and added protection.



Posts

: 2727


Join date

: 2010-12-25


Age

: 45


Location

: St. Louis, MO




---
Permissions in this forum:
You
cannot
reply to topics in this forum