Latest topics
»
fun Garden vine plants
by
countrynaturals
Today at 10:23 am
»
De Jours 18 Radish
by
countrynaturals
Today at 9:37 am
»
NATIONAL SEED SWAP DAY - 2020
by
OhioGardener
Today at 9:18 am
»
What Have You Picked From Your Garden Today
by
countrynaturals
Today at 9:17 am
»
Planting egg plant
by
countrynaturals
Yesterday at 6:09 pm
»
Upcycling milk cartons into starter packs
by
OhioGardener
Yesterday at 5:25 pm
»
Sixth Year SFG in Canada
by
trolleydriver
Yesterday at 12:50 pm
»
February: What to plant in Northern California and Central Valley areas
by
countrynaturals
Yesterday at 12:32 pm
»
Butterfly Junction
by
countrynaturals
Yesterday at 11:45 am
»
has55's R & D Journey
by
has55
Yesterday at 11:27 am
»
What are you eating from your garden today?
by
countrynaturals
Yesterday at 9:40 am
»
good plants to plant suggestions
by
countrynaturals
Yesterday at 9:29 am
»
garlic
by
sanderson
Yesterday at 2:30 am
»
Plant-Based Diet
by
sanderson
1/25/2020, 11:21 pm
»
January & February 2020 - Northern and Central Midwest
by
sanderson
1/25/2020, 11:18 pm
»
How's the Weather Where You're At?
by
countrynaturals
1/25/2020, 6:09 pm
»
Hey there, small, hot and composty
by
plantoid
1/25/2020, 1:15 pm
»
For The Organic Nerds in Dallas or Houston, Tx area. who want Fungal compost
by
has55
1/25/2020, 3:15 am
»
Eagle eggs ready to hatch in nest
by
sanderson
1/24/2020, 11:35 pm
»
SFG FOUNDATION NEWSLETTER - JANUARY 2020
by
sanderson
1/24/2020, 11:34 pm
»
Not new, but I've been away for a spell...
by
CitizenKate
1/24/2020, 9:10 pm
»
CANADIAN REGION:What are you doing January to March 2020
by
Kelejan
1/24/2020, 9:03 pm
»
Brix tests for nutrition density
by
sanderson
1/24/2020, 7:03 pm
»
wheelbarrow
by
sanderson
1/24/2020, 7:01 pm
»
TD - A Journey Through Prostate Cancer
by
Scorpio Rising
1/24/2020, 6:42 pm
»
Good day to you all .The name is Gord.
by
sanderson
1/24/2020, 6:42 pm
»
Soil Microorganisms
by
sanderson
1/24/2020, 6:24 pm
»
Diabetes Friendly Garden
by
countrynaturals
1/24/2020, 4:59 pm
»
Catalog season has begun!
by
yolos
1/23/2020, 9:40 pm
»
Happy Birthday!!
by
yolos
1/23/2020, 1:22 pm

Howdy, strangers! Oh, wait, it's me that's never here, never calls, never writes!
So here's my less than ideal situation. As a few of you will remember from when I used to be here on a regular basis, I used to own a restaurant. It was sold a year ago, and at that time, I moved my strawberries from the restaurant to a friend's house, SFG boxes, Mel's Mix and all. Yesterday, I moved them from her house, but I won't be able to install SFG boxes until spring.
Right now they are in a bucket. My plan is to put them into wooden barrels, that have old Mel's Mix, overcrowding them, and then re-transplant them in the spring when I can put them into their next, hopefully permanent homes. (Poor little transients! Although they are happy little plants, at least so far!)
In order to help them survive the winter, I should surround the barrels with something like straw, but I don't want to invite all the local rodents in. I'm thinking about maybe surrounding the barrels with bags of compost that I'll need for next year's boxes. (I had gorgeous compost piles at the restaurant, but had to leave them behind.

)
Comments, suggestions, ideas?
I know that worst case, if they don't make it, I can start over. It didn't take me long to go from a few plants to this as a one day's harvest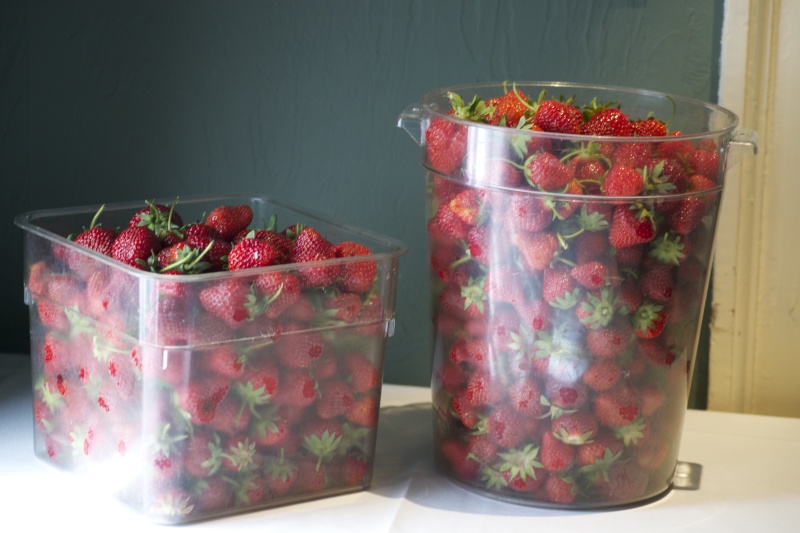 I know, I know, those of you who've been around since I used to be around have seen this photo a million times! I admit it, I'm proud of it! Any excuse to post that photo makes me happy. And it made me ridiculously happy to work with my little strawberry plants yesterday. DH is very tolerant when I tell him how happy it made me, but you folks actually get it!
Anyway, advice, suggestions, thoughts?  Thanks!

martha




Posts

: 2188


Join date

: 2010-03-03


Age

: 62


Location

: Acton, Massachusetts Zone 5b/6a



Hi, martha! I think the idea of placing the bags of compost around the containers with the strawberry transplants is a win-win! You get the insulation without the rodent habitat, and your compost is right there where you need it in the Spring! I say try it, but I am sure that lots of folks have more experience than I with strawberries.

BTW, your picture makes my mouth water, LOL!

Scorpio Rising




Posts

: 7268


Join date

: 2015-06-12


Age

: 58


Location

: Ada, Ohio



Hi Martha!  Good to see you!!

I agree with SR.  I've found that plants are very resilient creatures...
That sounds like a great idea, Martha! And I do like that picture.

There are also big fabric bags that let you compost directly in them, that could serve much the same purpose, but the ones I have are a bit tall and you would have to move them if you want any sun on the beds.

Marc Iverson




Posts

: 3638


Join date

: 2013-07-05


Age

: 58


Location

: SW Oregon



What if you heel them in anywhere for now and pull them up once your box is built? You know those dang things grow like weeds here in NE.

CC

CapeCoddess




Posts

: 6824


Join date

: 2012-05-20


Age

: 63


Location

: elbow of the Cape, MA, Zone 6b/7a



Oh Martha, I am green with envy.  My plants are currently quite happy and put out a few strawberries a day but nothing like your production.  I just keep at it.  The plants are quite vigorous and half of the strawberries get chewed on by some little critters under the straw.  More work to do. 

BTW - they are growing great in the aquaponics.

kauairosina




Posts

: 649


Join date

: 2014-01-16


Age

: 84


Location

: Lawai, Hawaii, 96765




---
Permissions in this forum:
You
cannot
reply to topics in this forum