Latest topics
»
fun Garden vine plants
by
countrynaturals
Today at 10:23 am
»
De Jours 18 Radish
by
countrynaturals
Today at 9:37 am
»
NATIONAL SEED SWAP DAY - 2020
by
OhioGardener
Today at 9:18 am
»
What Have You Picked From Your Garden Today
by
countrynaturals
Today at 9:17 am
»
Planting egg plant
by
countrynaturals
Yesterday at 6:09 pm
»
Upcycling milk cartons into starter packs
by
OhioGardener
Yesterday at 5:25 pm
»
Sixth Year SFG in Canada
by
trolleydriver
Yesterday at 12:50 pm
»
February: What to plant in Northern California and Central Valley areas
by
countrynaturals
Yesterday at 12:32 pm
»
Butterfly Junction
by
countrynaturals
Yesterday at 11:45 am
»
has55's R & D Journey
by
has55
Yesterday at 11:27 am
»
What are you eating from your garden today?
by
countrynaturals
Yesterday at 9:40 am
»
good plants to plant suggestions
by
countrynaturals
Yesterday at 9:29 am
»
garlic
by
sanderson
Yesterday at 2:30 am
»
Plant-Based Diet
by
sanderson
1/25/2020, 11:21 pm
»
January & February 2020 - Northern and Central Midwest
by
sanderson
1/25/2020, 11:18 pm
»
How's the Weather Where You're At?
by
countrynaturals
1/25/2020, 6:09 pm
»
Hey there, small, hot and composty
by
plantoid
1/25/2020, 1:15 pm
»
For The Organic Nerds in Dallas or Houston, Tx area. who want Fungal compost
by
has55
1/25/2020, 3:15 am
»
Eagle eggs ready to hatch in nest
by
sanderson
1/24/2020, 11:35 pm
»
SFG FOUNDATION NEWSLETTER - JANUARY 2020
by
sanderson
1/24/2020, 11:34 pm
»
Not new, but I've been away for a spell...
by
CitizenKate
1/24/2020, 9:10 pm
»
CANADIAN REGION:What are you doing January to March 2020
by
Kelejan
1/24/2020, 9:03 pm
»
Brix tests for nutrition density
by
sanderson
1/24/2020, 7:03 pm
»
wheelbarrow
by
sanderson
1/24/2020, 7:01 pm
»
TD - A Journey Through Prostate Cancer
by
Scorpio Rising
1/24/2020, 6:42 pm
»
Good day to you all .The name is Gord.
by
sanderson
1/24/2020, 6:42 pm
»
Soil Microorganisms
by
sanderson
1/24/2020, 6:24 pm
»
Diabetes Friendly Garden
by
countrynaturals
1/24/2020, 4:59 pm
»
Catalog season has begun!
by
yolos
1/23/2020, 9:40 pm
»
Happy Birthday!!
by
yolos
1/23/2020, 1:22 pm
Page 2 of 2 •

1, 2

Ooh, fresh spinach -- I'll devour it in salads or sauteed.

Best spinach I've ever had was at Maggiano's in Chicago -- they flash-sauteed it in some extra-virgin olive oil and a couple of cloves of fresh garlic. Not cooked enough to wilt, but just warm through with the garlic. There were 8 of us at the table, and we actually fought over the spinach, and left a piece of the salmon that was sitting on it laying on the platter. The salmon was good, too, but wow, the spinach. Whodathunkit?

LaFee




Posts

: 1023


Join date

: 2010-03-03


Location

: West Central Florida



It appears that one of the two squares of swiss chard I planted last year and that were buried under 18" of snow for about 4 weeks has made it through, I will do more to protect through next winter.. Look forward to harvesting soon. For the fall I will start a second square.

gettip




Posts

: 17


Join date

: 2010-03-10


Location

: New Carlisle, OH (Twilight Zone and 5b)



Swiss chard is actually very versatile. I was reading about it on the National Gardening Assoc. site and the
article said it's basically it's a bulb-less beet. All the nourishment
goes to the top. I am looking forward to having it in my SFG this year! Check these recipes out for just the stems...make my mouth water just looking at that picture!
http://kalynskitchen.blogspot.com/2008/02/baked-swiss-chard-stems-recipe-with.html
Patti
Thanks for the recipe. Since no one in my family has ever eaten chard before and I'm planning to grow it, I need a couple of recipes to try.
Thanks again.

quiltbea




Posts

: 4712


Join date

: 2010-03-21


Age

: 77


Location

: Southwestern Maine Zone 5A



@pattipan

wrote:..snip....it's basically it's a bulb-less beet. ...
Wait, beets make you burp?
Edit, edit, edit ....I guess that once I proof-read, I realize that burping in not what happens when beets are eaten.
Deborah ....trying to keyboard after taking a pain pill after planting strawberries yesterday
Last edited by Lavender Debs on 3/25/2010, 8:22 pm; edited 1 time in total (Reason for editing : Reading disorder (that is the way I hear too))
@Mirjam

wrote:"boerenkool stamppot",

If you can get some rookworst, you should really try it... although it's best eaten when it's really cold outside (after having been ice skating all afternoon or so), so better postpone it till next winter... for now I'd like some higher temperatures!
YUM!
How exactly do you thin swiss chard seedlings? Since the seed pods actually contain several individual seeds, do you thin them all down to one? I've tried to look it up, but I'm still not completely sure...
I'd sure appreciate some advice. Mine have gone crazy and I want my chard to grow well.
Thanks!


trustingHim




Posts

: 49


Join date

: 2010-03-12



I know it's early in the season here in Maine, zone 5a, but I had to get a few things in this week. At nite I cover them with heavy row cover that protects down to 28 degrees so I'm within the numbers with eves being in the low to mid 30s. The days are from 40s to 60s so they are getting some warmth as well.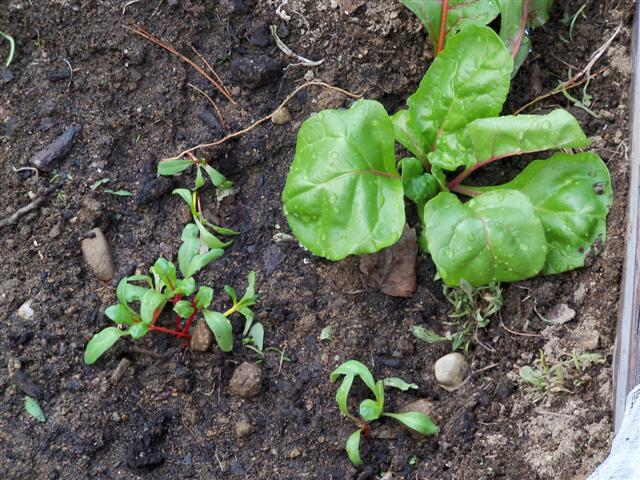 Here's mine in two squares. The larger one I bought at the local Lowe's this week, the smaller ones are Bright Lights chard I started myself indodors.
I hope to get some sidedishes here for my family.
I understand if you are going to cut the whole plant out about an inch from the soil, it needs less space and will regrow.
If you are going to harvest by taking the outer leaves when they are around 4-5" big, then you need to put them in a square by themselves because they take more room.
I'll try both ways to see what works best for us.

quiltbea




Posts

: 4712


Join date

: 2010-03-21


Age

: 77


Location

: Southwestern Maine Zone 5A



Page 2 of 2 •

1, 2

---
Permissions in this forum:
You
cannot
reply to topics in this forum