Latest topics
»
Upcycling milk cartons into starter packs
by
markqz
Today at 1:48 pm
»
fun Garden vine plants
by
countrynaturals
Today at 10:23 am
»
De Jours 18 Radish
by
countrynaturals
Today at 9:37 am
»
NATIONAL SEED SWAP DAY - 2020
by
OhioGardener
Today at 9:18 am
»
What Have You Picked From Your Garden Today
by
countrynaturals
Today at 9:17 am
»
Planting egg plant
by
countrynaturals
Yesterday at 6:09 pm
»
Sixth Year SFG in Canada
by
trolleydriver
Yesterday at 12:50 pm
»
February: What to plant in Northern California and Central Valley areas
by
countrynaturals
Yesterday at 12:32 pm
»
Butterfly Junction
by
countrynaturals
Yesterday at 11:45 am
»
has55's R & D Journey
by
has55
Yesterday at 11:27 am
»
What are you eating from your garden today?
by
countrynaturals
Yesterday at 9:40 am
»
good plants to plant suggestions
by
countrynaturals
Yesterday at 9:29 am
»
garlic
by
sanderson
Yesterday at 2:30 am
»
Plant-Based Diet
by
sanderson
1/25/2020, 11:21 pm
»
January & February 2020 - Northern and Central Midwest
by
sanderson
1/25/2020, 11:18 pm
»
How's the Weather Where You're At?
by
countrynaturals
1/25/2020, 6:09 pm
»
Hey there, small, hot and composty
by
plantoid
1/25/2020, 1:15 pm
»
For The Organic Nerds in Dallas or Houston, Tx area. who want Fungal compost
by
has55
1/25/2020, 3:15 am
»
Eagle eggs ready to hatch in nest
by
sanderson
1/24/2020, 11:35 pm
»
SFG FOUNDATION NEWSLETTER - JANUARY 2020
by
sanderson
1/24/2020, 11:34 pm
»
Not new, but I've been away for a spell...
by
CitizenKate
1/24/2020, 9:10 pm
»
CANADIAN REGION:What are you doing January to March 2020
by
Kelejan
1/24/2020, 9:03 pm
»
Brix tests for nutrition density
by
sanderson
1/24/2020, 7:03 pm
»
wheelbarrow
by
sanderson
1/24/2020, 7:01 pm
»
TD - A Journey Through Prostate Cancer
by
Scorpio Rising
1/24/2020, 6:42 pm
»
Good day to you all .The name is Gord.
by
sanderson
1/24/2020, 6:42 pm
»
Soil Microorganisms
by
sanderson
1/24/2020, 6:24 pm
»
Diabetes Friendly Garden
by
countrynaturals
1/24/2020, 4:59 pm
»
Catalog season has begun!
by
yolos
1/23/2020, 9:40 pm
»
Happy Birthday!!
by
yolos
1/23/2020, 1:22 pm

Hello, gardeners!  I am currently planning out my SFG for this year, and I have some quick questions.

Last year I started my garden very late in the season. This year I hope to avoid that. In live in Culpeper County, Virginia, which I think is considered "upper south."

When should I initially plant?  I've done some research, and according to the books, some plants can go in as early as March 22!  Is that accurate?  I was expecting some time in April.  So to those of you who live in my area and have planted, when did you start?

Next, does every plant in a given square need to be planted at the same time?  For example, a given square can support up to 16 radish plants.  I'm not likely to need 16 radishes at one picking, but what if I planted them in groups of four?  That would give be four sets of four plants each, with one group theoretically turning ripe every week.  Similar rotations of other crops might help make a continual harvest.

And finally, what plants generally need "top hats" or vertical supports?  I want to try some root crops this year, and for those I was going to make some simple top hats.  I also want to try okra and zucchini, each one plant to a square, with a pole.  Green pole beans will also get a pole, obviously.

The crops I'm looking at for this year are:

Butter lettuce
Black seed Simpson lettuce
Romaine lettuce
Spinach
Swiss Chard
Green beans, pole (w/ vertical support)
Green beans, bush (w/ low lattice?)
Snow peas (w/ low lattice)
Okra (w/ vertical support)
Zucchini (w/ vertical support)
Cucumber (w/ lattice cage)
Roma Tomato (w/ lattice cage)
Amish Tomato (w/ lattice cage)
Green pepper (w/ lattice cage)
Banana pepper (w/ lattice cage)
Beets (w/ tophat)
Potato (w/ tophat)
Radish (w/ tophat?)
Carrots (w/ tophat)
Spanish onions
Strawberries (w/ low lattice)

These would be spread across the growing season, over 32 total squares.  I don't know if I'll be able to do all of them, and no matter what they won't all be growing at the same time. 

I know that I'll have to watch the zucchini like a hawk.  I've read that those things will rapidly grow from one square to four if given the chance.  I'm hoping to force the thing up instead of out.

I suspect I may be aiming too high.  My research is still in process.  I'll be using two standard dimension garden boxes with 12" walls.  I'm planning to get the materials and start construction on MLK weekend, time and luck permitting.

RJPugh




Posts

: 12


Join date

: 2014-10-08


Location

: Culpeper, Virginia



I can't believe I wrote a reply and lost it.

Trying again. This is just a quick reply.
Everything can be grown in regular height beds unless noted.
Potato and carrot - 12" boxes perfect. Otherwise, top hats.
Small lettuces, spinach and radishes can be planted here and there among large one-per-box plants if you don't want to plant them in squares. Also can "cut and grow" them. Chard and romaine take more room but can also be cut and grown.
Poles beans and peas - tall lattice (5-8')
Bush beans and peas - low corral/lattice
Okra are sturdy and don't need support!

Cucumber - don't know if there are bush varieties, but regular cucumber vines need a lattice (5')
Peppers and determinant tomatoes - 3-rung and 4-run tomato cages.
Beets, onions, and Parisienne and baby carrots - regular height boxes.
Zucchini- plant in a corner or outside square so they can fall over and outside the box. For vertical, train and prune to a pole or within a tomato cage. I grew zucchini and yellow crookneck in large pots with 3-rung tomato cages last summer.
Hope this helps.
Firstly, sowing seeds and putting out transplants depends upon your weather and your average last frost. See this site for good average dates to do either. Plug in your zip code.
http://www.almanac.com/gardening/planting-dates/ME/Yarmouth
Examples of seed that can go in early, that may be sown outdoors are garden peas, beets, chard, spinach, radish, onion sets, bok choy, rapini, etc. Transplants:Nearly all the long growing brassicas.
Zucchini is not a plant that climbs as a vine. For best results, plant in a separate box or outside corner square.
I grow nantes and rainbow carrots quite well in a box with 8" sides. Potatoes need deeper growing medium.
Lastly, do not skimp on the compost that you put into your mix. Quality compost will yield quality results.
Your local Extension Service is an incredibly valuable local agriculture resource.
____________________________
43 years a gardener and going strong with SFG.
http://squarefoot.forumotion.com/t3574-the-end-of-july-7-weeks-until-frost
There are certain pursuits which, if not wholly poetic and true, do at least suggest a nobler and finer relation to nature than we know. The keeping of bees, for instance. ~ Henry David Thoreau
http://squarefoot.forumotion.com/t1306-other-gardening-books
True, zucchini are not vining. I really have to train and prune them carefully to do it. Advanced Zucchini 201!
Wow!  OK, I'll put the zucchini in a planting pot on the side.  Preferably a big one.  My daughter's strawberries have already been moved to a separate box.

Apparently I need to make some shades for some of my plants, given the heat we get around here in high summer.  How thick should I go with these?  I've seen shade cloth that can shield as much as 70% of the heat.  My instinct is to go with 50% - dead center - and see how things go. 

I'm picturing 12" squares of shade cloth held above the plants using dowels.  Kind of like little dining tents.  Little round parasols would also work, and would sure look cute.  But making those would be too much work.

RJPugh




Posts

: 12


Join date

: 2014-10-08


Location

: Culpeper, Virginia



Make the squares way larger than 12" so you can drape over on the side that gets hot afternoon sun.  I think there is a relationship between the amount of heat protection and the amount of sunshine that reaches the plants.  There are other topics here on shade cloth.
http://squarefoot.forumotion.com/t14401-vertically-growing-summer-squash?highlight=vertical+squash
Potted zucchini: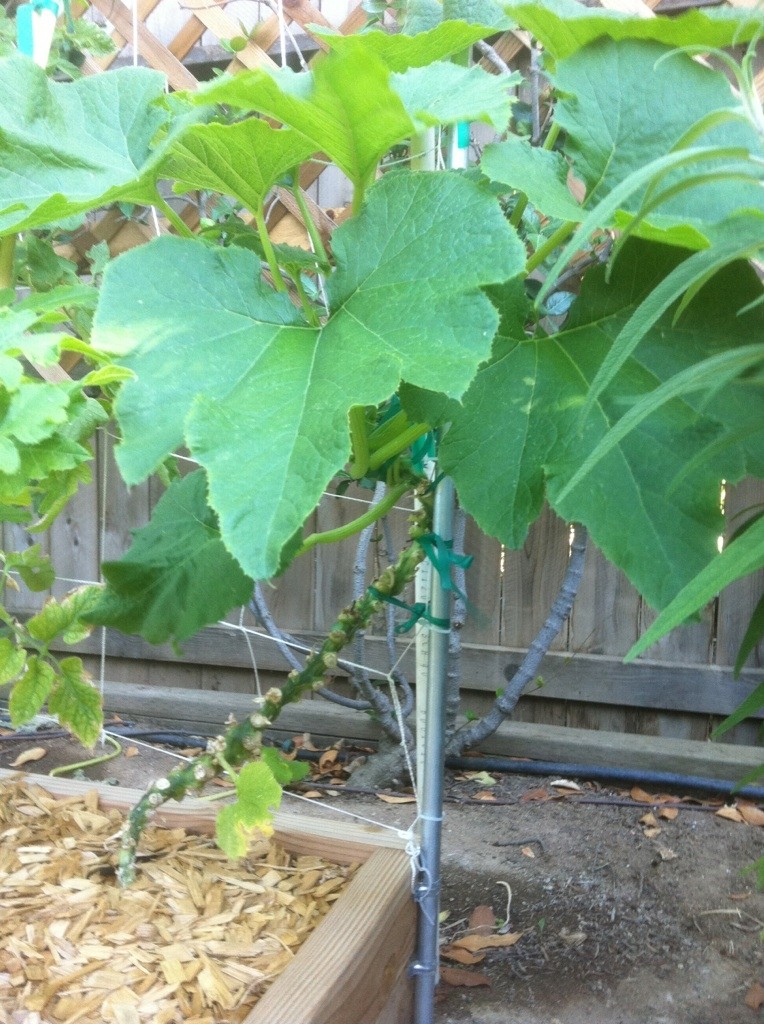 For the top hats, how long should I make them per side?  I was thinking of using two of the same size planks I'll be using for the outer wall of the box, cutting them into a set of 9" lengths, then arranging them into squares.  With the planks being about 1.5" thick, the resulting squares would be about 11" per side.  They should still fit within the SFG grid, though it might be tight.

Looking at my plan, I expect to need four top hats.  I could make one big top hat, 2' per side, and keep those four square together, but I'm unsure of that as a long term thing.

RJPugh




Posts

: 12


Join date

: 2014-10-08


Location

: Culpeper, Virginia



The beauty of SFG is that it is flexible.  Several ways to skin a cat.

---
Permissions in this forum:
You
cannot
reply to topics in this forum