Latest topics
»
Any tips growing with Jiffy Pots
by
countrynaturals
Today at 6:51 pm
»
Fourth Year SFG in Canada
by
trolleydriver
Today at 5:38 pm
»
N&C Midwest - MAY! Spring has sprung!
by
Scorpio Rising
Today at 3:34 pm
»
Tomato Tuesday 2018
by
hammock gal
Today at 10:51 am
»
Potato growing
by
Scorpio Rising
Today at 9:49 am
»
Situation in Hawaii
by
AtlantaMarie
Today at 7:40 am
»
Compost pile in Schwenksville PA.
by
AtlantaMarie
Today at 7:40 am
»
Help! Onion Maggots!
by
sanderson
Today at 12:52 am
»
Pests...How to keep at bay
by
jimmy cee
Yesterday at 10:41 pm
»
Lurking newby
by
ispinwool
Yesterday at 1:12 pm
»
On the Road
by
sanderson
Yesterday at 1:09 pm
»
New England May 2018
by
sanderson
Yesterday at 12:17 am
»
Mr. Booker's Garden -2018
by
sanderson
5/18/2018, 12:17 pm
»
Volunteer Mushroom
by
AtlantaMarie
5/18/2018, 7:13 am
»
Hi from Burrrrlington Vermont!
by
AtlantaMarie
5/18/2018, 7:10 am
»
CANADIAN REGION: What are you doing in MaY 2018
by
Kelejan
5/17/2018, 10:30 pm
»
Aero Garden for starting seeds?
by
Windsor.Parker
5/17/2018, 3:44 pm
»
Potatoes: Yes or No?
by
jimmy cee
5/16/2018, 11:38 pm
»
Butterfly Junction
by
countrynaturals
5/16/2018, 8:54 pm
»
Interplanting Beans/Cucumbers to repel beetles
by
Roseinarosecity
5/16/2018, 1:51 pm
»
Happy Birthday!!
by
sanderson
5/16/2018, 9:55 am
»
2018 SFG in Brooks, GA
by
AtlantaMarie
5/16/2018, 8:05 am
»
How's the Weather Where You're At?
by
countrynaturals
5/15/2018, 10:20 pm
»
Sanderson's Urban SFG in Fresno, California
by
sanderson
5/15/2018, 2:56 pm
»
Texas Dream garden 2017
by
has55
5/15/2018, 12:14 pm
»
Happy Mother's Day!
by
countrynaturals
5/14/2018, 2:55 pm
»
Just Completed my Garden.....What Should I Plant NOW!
by
stealthmayhem
5/14/2018, 8:55 am
»
What are you eating from your garden today?
by
MrBooker
5/14/2018, 7:48 am
»
Hi from Buffalo
by
MrBooker
5/14/2018, 7:28 am
»
Seed Starting Mix vs. Jiffy Peat Pellets (experiment)
by
Nikko
5/13/2018, 7:35 pm

We are finally getting our SFG installed and have decided to lay a 20 x 30 tarp for the base of it. Do any of you foresee any issues in doing this? We are still going to lay a layer of maybe gravel and mulch on top of this and then I will be lining each of the boxes with a weed barrier fabric, but wondered if this plastic tarp will cause any issues down the road. I thought it would be great since there are no seams in it and it gives us a nice platform to start off with. TIA
A nice platform, indeed, as long as it's permeable for drainage purposes.

Certified SFG Instructor




Posts

: 2220


Join date

: 2010-03-02


Age

: 70


Location

: Bend, OR (Zone 5-6)



If it's the woven nylon, it will eventually break down and get into your Mel's Mix, bit by bit.
____________________________
43 years a gardener and going strong with SFG.
http://squarefoot.forumotion.com/t3574-the-end-of-july-7-weeks-until-frost
There are certain pursuits which, if not wholly poetic and true, do at least suggest a nobler and finer relation to nature than we know. The keeping of bees, for instance. ~ Henry David Thoreau
http://squarefoot.forumotion.com/t1306-other-gardening-books

Forum Moderator Certified SFG Teacher




Posts

: 14167


Join date

: 2010-03-06


Age

: 55


Location

: Keene, NH, USA ~ Zone 5a



I'm going to still be putting weed barrier fabric in the individual boxes. Do you think it will still get into the boxes with that?

Drainage would also be a concern. The weed barrier cloth will allow water to drain through your raised beds, but the tarp wouldn't allow water to go through it.

I would highly suggest hardware cloth on the bottom of the raised beds. This week, we discovered voles in the garden and other areas of the property. We have never had them in the past, so we will begin the process of removing MM and adding the hardware cloth to the bottom of each raised bed.

Critters would be able to chew through the tarp and the weed barrier cloth. We found a nest/mound filled with dried grass and bits of weed cloth.

Good luck with your new garden.



Posts

: 237


Join date

: 2011-06-23


Location

: SE Wisconsin, Zone 5a



I also think the concerns would be with proper drainage and like camprn mentioned, decomposing. While it may seem like a good short term solution, I think you would be much better off removing the sod underneath, and using weed barrier. Just my opinion though...


Forum Administrator




Posts

: 4316


Join date

: 2011-10-04


Location

: Colorado Front Range



Seems like a waste of a perfectly good tarp to me. Here in Washington, when I cover something with a tarp, it's to keep it from getting wet. So using a tarp under something would prevent water from draining out, at least while the tarp is still new. If you like using it as a base because it's a quick way to cover up all that grass, rather than kill it off or dig it out, well - that's another thing. Maybe you could leave the tarp down for a couple of weeks and if it gets hot enough it will heat up enough under the tarp to kill off the grass?
Anyway, if you're still planning a layer of gravel or mulch, and then weed cloth barrier as well, than the tarp is unnecessary. Actually, I would put the weed cloth down first for your platform, then the gravel/mulch. If you really still want to use it, be sure to punch drainage holes. There is a nursery nearby that put down a thick tarp-like material all around and it's swampy mess. Even where the water doesn't puddle, if it gets under the material it doesn't drain and/or dry out very quickly so the ground underneath is all mushy.
Looks like you've got a fabulous space for gardening and I can't wait to see what you do with it! Be sure to keep posting pictures of your progress.


Certified SFG Instructor




Posts

: 1413


Join date

: 2011-05-11


Location

: Vancouver, WA



Well since it was such a beautiful day yesterday and the forum was slow with responses, we decided to go ahead with our plans.
Here is what the bottom of the beds looked like before we put the weed barrier cloth down on them.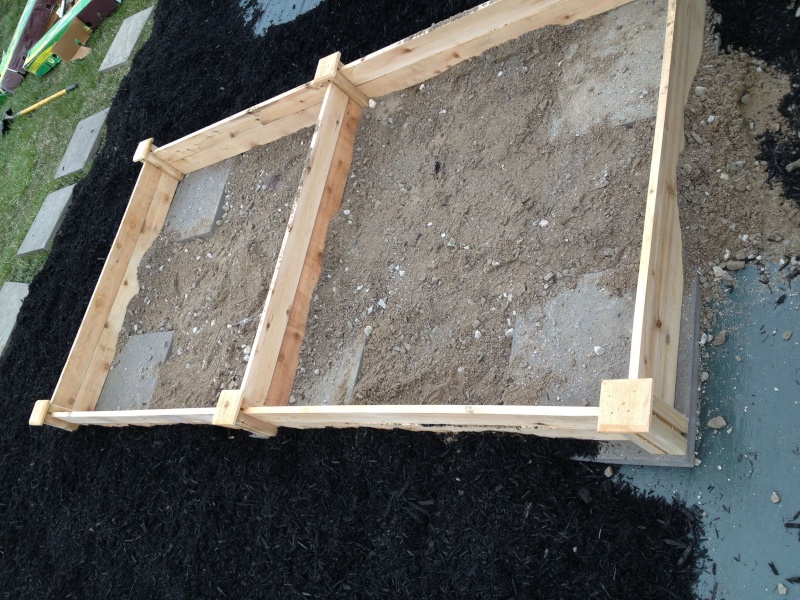 As you can see they have about an inch raised with some pavers and then we dropped some sand and gravel also in the bottom of them.
I already covered them with weed barrier and filled one of them with MM. My purpose for the tarp was so that weeds wouldn't come through the mulch that we're using for the walkways. I might go ahead and poke holes at least between the beds so that there will be some drainage. I didn't think about it being a swampy mess.
Here's some more pictures from our back breaking day. I'm new at this and expect to make some mistakes. I just hope I now can work around this tarp.
And this is what we got done the first day.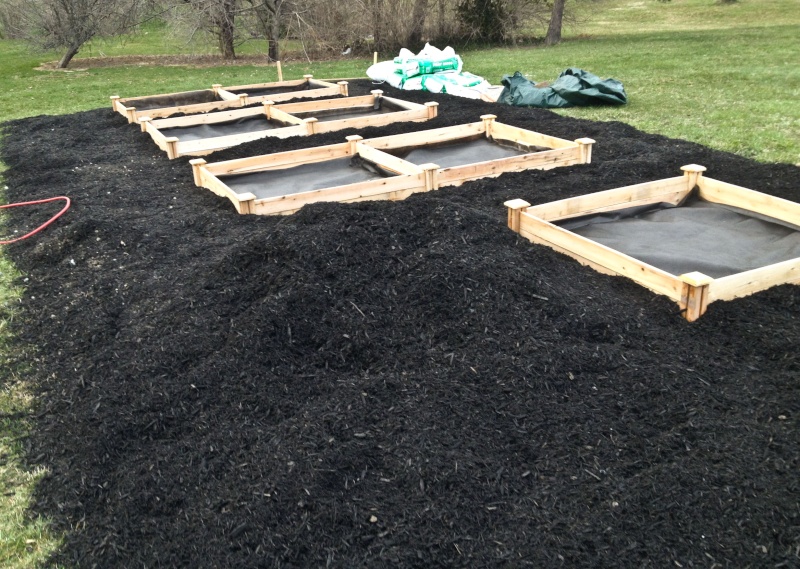 Today I attempted to start mixing my compost and filling my beds by myself but I realize it's a little more back breaking than I expected lol... I only got one 8' mostly filled and realize I already don't have enough compost. Off to the store again and I think I'll wait for my husband to get home to at least help lift the 40lb. bags lol..
Thanks to all the great advice even if I did view it a little late!
Looks great! I cant comment on the tarp because I have no clue. I filled my boxes today and didnt realize how much work it was either, haha. Im doing cardboard under my mulch for my walkways. Im still paranoid weeds will come through.



Posts

: 289


Join date

: 2013-02-22


Age

: 34


Location

: London, OH -Zone 5B/ 6A



I also cannot comment about the tarp because I am too new to all of this. I can see that you put a great deal of work into your project and it looks great! I am sure that I myself have underestimated the amount of work involved with preparing our mix and then filling our boxes. I will be slowly (due to my health) working on all of this with the help of my family.

I was reviewing previous posts and I noticed gwennifer advised punching drainage holes. I don't know if this is something that could still be done, but gwinnefer's advice sounded good to me.



Posts

: 1425


Join date

: 2013-02-26


Age

: 49


Location

: Fayetteville, GA - Zone 7B - 8A




---
Permissions in this forum:
You
cannot
reply to topics in this forum