Latest topics
»
Any tips growing with Jiffy Pots
by
Scorpio Rising
Today at 3:44 pm
»
N&C Midwest - MAY! Spring has sprung!
by
Scorpio Rising
Today at 3:34 pm
»
Tomato Tuesday 2018
by
hammock gal
Today at 10:51 am
»
Potato growing
by
Scorpio Rising
Today at 9:49 am
»
Situation in Hawaii
by
AtlantaMarie
Today at 7:40 am
»
Compost pile in Schwenksville PA.
by
AtlantaMarie
Today at 7:40 am
»
Help! Onion Maggots!
by
sanderson
Today at 12:52 am
»
Pests...How to keep at bay
by
jimmy cee
Yesterday at 10:41 pm
»
Lurking newby
by
ispinwool
Yesterday at 1:12 pm
»
On the Road
by
sanderson
Yesterday at 1:09 pm
»
Fourth Year SFG in Canada
by
trolleydriver
Yesterday at 7:48 am
»
New England May 2018
by
sanderson
Yesterday at 12:17 am
»
Mr. Booker's Garden -2018
by
sanderson
5/18/2018, 12:17 pm
»
Volunteer Mushroom
by
AtlantaMarie
5/18/2018, 7:13 am
»
Hi from Burrrrlington Vermont!
by
AtlantaMarie
5/18/2018, 7:10 am
»
CANADIAN REGION: What are you doing in MaY 2018
by
Kelejan
5/17/2018, 10:30 pm
»
Aero Garden for starting seeds?
by
Windsor.Parker
5/17/2018, 3:44 pm
»
Potatoes: Yes or No?
by
jimmy cee
5/16/2018, 11:38 pm
»
Butterfly Junction
by
countrynaturals
5/16/2018, 8:54 pm
»
Interplanting Beans/Cucumbers to repel beetles
by
Roseinarosecity
5/16/2018, 1:51 pm
»
Happy Birthday!!
by
sanderson
5/16/2018, 9:55 am
»
2018 SFG in Brooks, GA
by
AtlantaMarie
5/16/2018, 8:05 am
»
How's the Weather Where You're At?
by
countrynaturals
5/15/2018, 10:20 pm
»
Sanderson's Urban SFG in Fresno, California
by
sanderson
5/15/2018, 2:56 pm
»
Texas Dream garden 2017
by
has55
5/15/2018, 12:14 pm
»
Happy Mother's Day!
by
countrynaturals
5/14/2018, 2:55 pm
»
Just Completed my Garden.....What Should I Plant NOW!
by
stealthmayhem
5/14/2018, 8:55 am
»
What are you eating from your garden today?
by
MrBooker
5/14/2018, 7:48 am
»
Hi from Buffalo
by
MrBooker
5/14/2018, 7:28 am
»
Seed Starting Mix vs. Jiffy Peat Pellets (experiment)
by
Nikko
5/13/2018, 7:35 pm
Page 2 of 2 •

1, 2

Great idea, LM. Maybe I will make a collar out of spun bond landscape fabric and lay it on the soil under the straw mulch. I admit I'm getting a bit nervous after witnessing the roots on all three of my grafted tomatoes.
I enjoy finding spontaneous solutions when in a bind.
Glad you thought of something that sounds even better.
Wonder if the supplier has a solution too?
Best Wishes!

Certified SFG Instructor




Posts

: 4871


Join date

: 2010-08-20


Location

: Central Ohio zone 6a



We had a pretty cold and rainy spring which delayed planting out my tomatoes until May 28. We continued to have rain (16 inches in two weeks for example) and cool  weather, so everything is behind schedule. Nonetheless, the grafted tomatoes have turned in a totally unimpressive performance, as shown below. If I was asked today to assess them, I would judge them to be a total of waste of money compared to locally grown transplants. They still have time to prove me wrong. And let me apologize in advance for the photos. The backdrop is a row of onions with green tops maybe 24-30 inches tall, so contrast is lousy.
Below is the grafted Big Beef tomato, about 2 feet tall with a few tomatoes. Looks healthy but not the monster I was promised.
Below is the ungrafted Big Beef from a vigorous transplant purchased from Applefield Farms in Stow, Massachusetts. It is almost twice as tall as the grafted plant, dark green foliage with thick stems, and already loaded with fruit. Still not a monster, but a healthy tomato that will hopefully produce well if we can duck the late blight.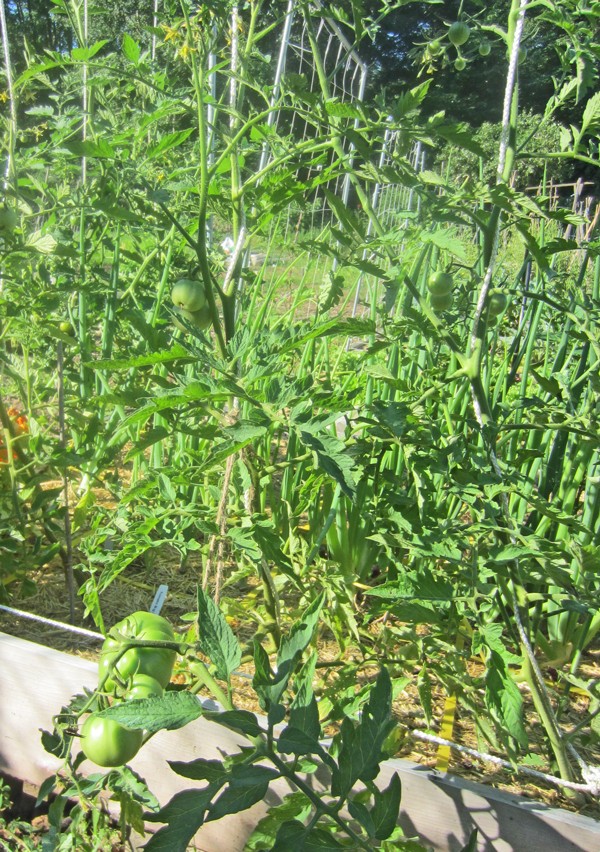 This is the grafted Juliet, again a healthy plant with one bunch of fruit set, but half the size of the ungrfated plant.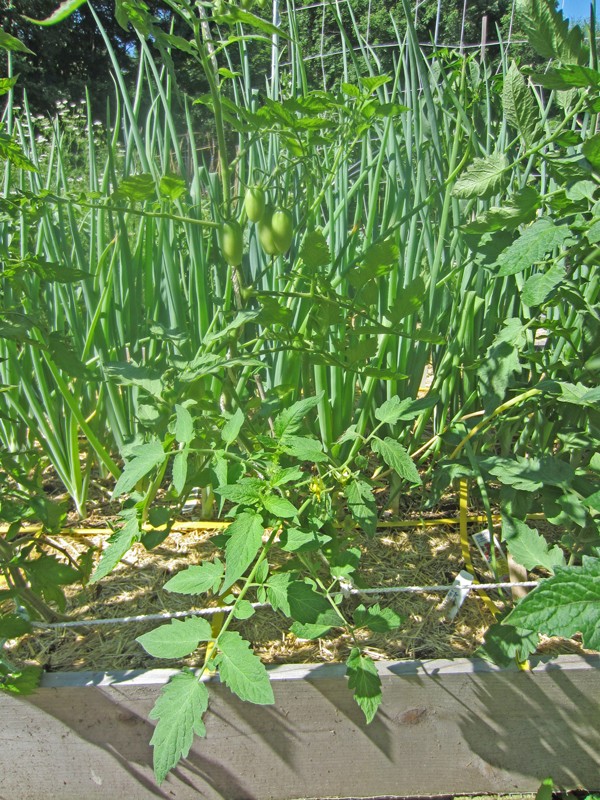 The ungrafted Juliet, from a 4 inch pot I bought from a local Bolton grower, Jem Mix, definitely is reaching the status of a monster plant. This is what you expect from Juliet, an exuberant, hard to control plant that suckers like crazy and produces long trusses of fruit. It is twice as tall as the demure grafted plant and threatening to take over the whole bed. The thought of putting this plant onto grafted rootstock that would magnify its exuberance was frightening to my neighbor, who introduced me to Juliet. But so far, the grafted plant is petite and demure, not the monster you would expect.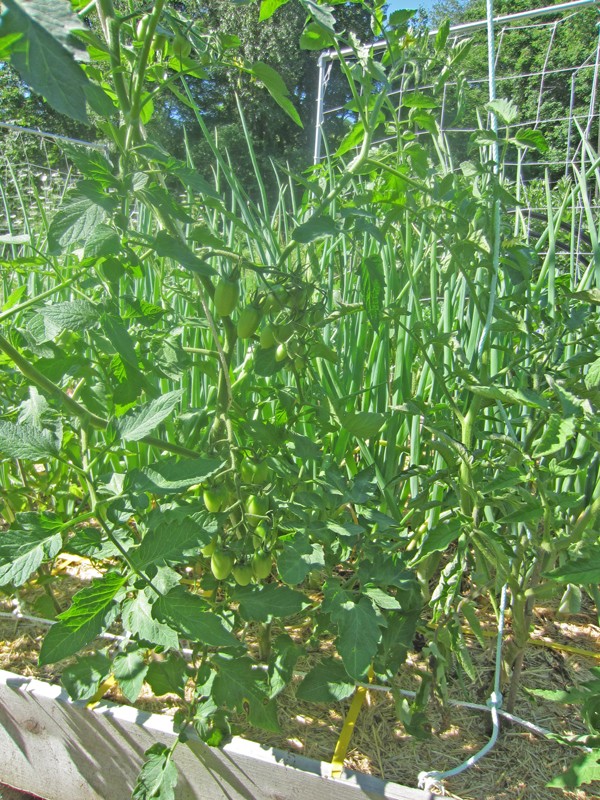 The third grafted plant is Cherokee Purple, my favorite heirloom tomato. I don't have an ungrafted tomato for comparison, but I can say that the grafted plant is again more petite than I would expect. But it looks very healthy and is setting fruit. If I can get a half dozen tomatoes from this plant I will be very happy.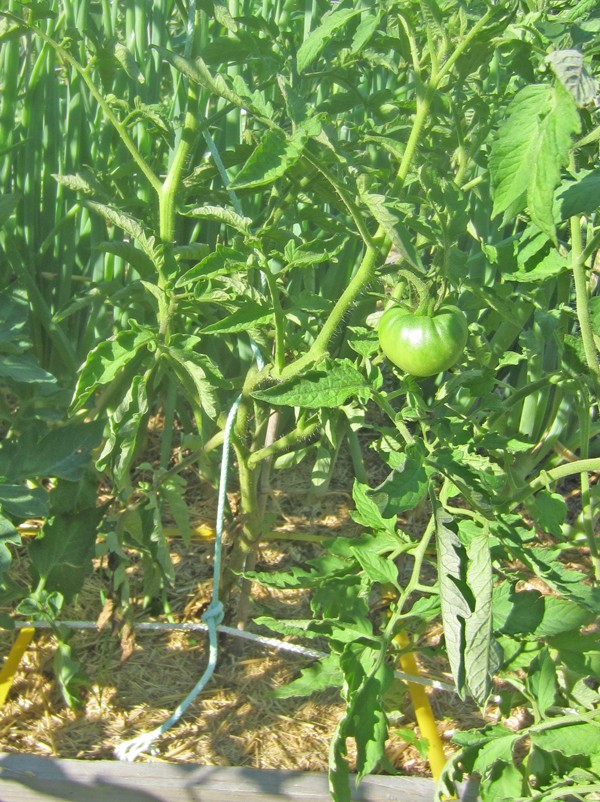 Right now my impression is that these grafted tomatoes are underwhelming. The situation might be different for greenhouse operators worried about soil borne diseases (and doing their own grafting), but at $8 a transplant, these are simply not worth the money for a home grower. Note that I am growing these in a SFG, so results in soil with a bigger spacing may well be different.
How deep are your beds?  I wonder if a supertomato might need a superdeep bed to cope with all that supposed excess root growth.



Posts

: 3638


Join date

: 2013-07-05


Age

: 56


Location

: SW Oregon



My tomato bed is 8 inches. The plant can expand into the neighboring row since I planted supposedly shallow rooted onions that will be coming out soon. If necessary I can allocate them 2 squares, as discussed earlier, but not until they prove themselves. These plants do not look like supertomatoes, not at all.
Thank you Dvelton
I appreciate the time you took to pioneer your grafted tomato effort on this forum and sharing the results with us.  The grafting concept sounds great despite the results falling short of  expectations.  Makes me wonder what the seller would say or advise from your results. If it were me I'd tell them and show pictures.  Who knows what they might do for you. I find nicely worded reports work well and Good companies will take care of you.

Certified SFG Instructor




Posts

: 4871


Join date

: 2010-08-20


Location

: Central Ohio zone 6a



Page 2 of 2 •

1, 2

---
Permissions in this forum:
You
cannot
reply to topics in this forum